Disclaimer: We may receive a commission for purchases made through the links on our site. However, this does not impact our reviews and comparisons. Learn more about our Affiliate Disclosure.
As cryptocurrency becomes increasingly popular, different trading platforms are becoming more and more competitive in the hopes of staying ahead of their rivals. That means offering the most secure cryptocurrency trading platforms, making their systems user-friendly and customer-focused, and offering as many different coins as possible. Due to these factors, Binance is one of the leading cryptocurrency exchanges today in countries like Australia, Canada, USA, the UK, and many more.
Before we get into the details of what Binance is, how it works, and why it's such a successful exchange, there are a few things you'll want to know. Binance is a Chinese platform, based in Hong-Kong that provides almost 100 different types of coins at competitive rates.

Related Comparisons:
Binance Exchange
Originally a China-based cryptocurrency exchange service, Binance was founded in 2017 by a developer named Changpeng Zhao. Although relatively new to the exchange industry, Binance has proven that with a strong business plan, directed towards attracting and satisfying users, you can rise to the top very quickly. Zhao's company, Beijie Technology, raised over $15 million to start the exchange after an extremely lucrative ICO (Initial Coin Offering), and Binance has been on the rise ever since.
Binance has its own coin, the Binance Coin (BNB), which can be used within the exchange for crypto trading as well as paying fees. With increased popularity, the value of the coin has slowly risen over time. Even though it's been just a few years since the initial launch of the exchange, Binance is now a household name to those in the business of cryptocurrency trading.
Building up one of the world's strongest cryptocurrency exchanges was no easy task, and it wasn't always such smooth sailing for Binance. China's government regulations on cryptocurrency proved to be more than just a minor inconvenience for the Hong Kong-based company. They had to think creatively to operate more freely. They are now headquartered on the island of Malta and have other locations all over the world.
Being able to offer regulation-free cryptocurrency exchange services to a global market is Binance's fundamental goal. This move proved to be a wise choice, as the newly-launched exchange has only grown since then. In the owner's own words:
"Our vision is to increase the freedom of money globally. We believe that by spreading this freedom, we can significantly improve lives around the world."
From its successful ICO to their decision to be as globally-accessible as possible, it's no wonder that Binance has become a significant player among cryptocurrency exchanges. Their low fees and vast coin offerings are attractive selling points. Whether you're new to the world of crypto assets or you're a seasoned veteran, you should keep your eye on this exchange.
Binance Launchpad
Binance has launched a token launch platform called Binance Launchpad that allows its users to take part in an Initial Exchange Offering (IEO) supervised by the exchange. Through these token sales, Binance helps blockchain startups raise funds for their projects, expands the crypto ecosystem, and motivates their customers to engage more actively within the crypto industry.
Bitcoin and Other Supported Cryptocurrencies
One of the most attractive features of Binance as a cryptocurrency exchange is the sheer variety of digital assets that they offer. Whether you want mainstream currencies like Bitcoin (BTC) and Ethereum (ETH), or an altcoin such as Bitcoin Cash (BCH), Neo, Tron (TRX), Litecoin, Ripple (XRP), Dash, or Tether (USDT), you'd be hard-pressed to find one that Binance doesn't support. In total, their listing of coins stands around 100 different cryptocurrencies and over 400 trading pairs.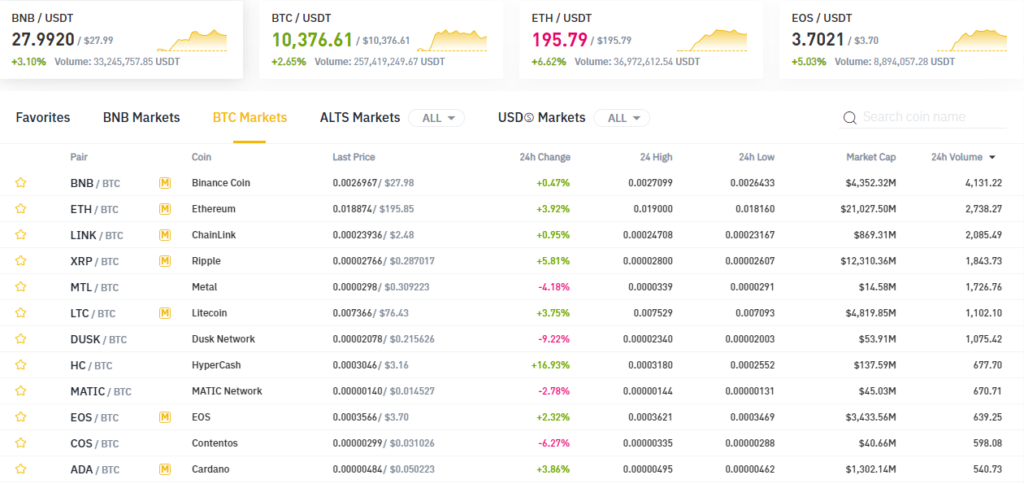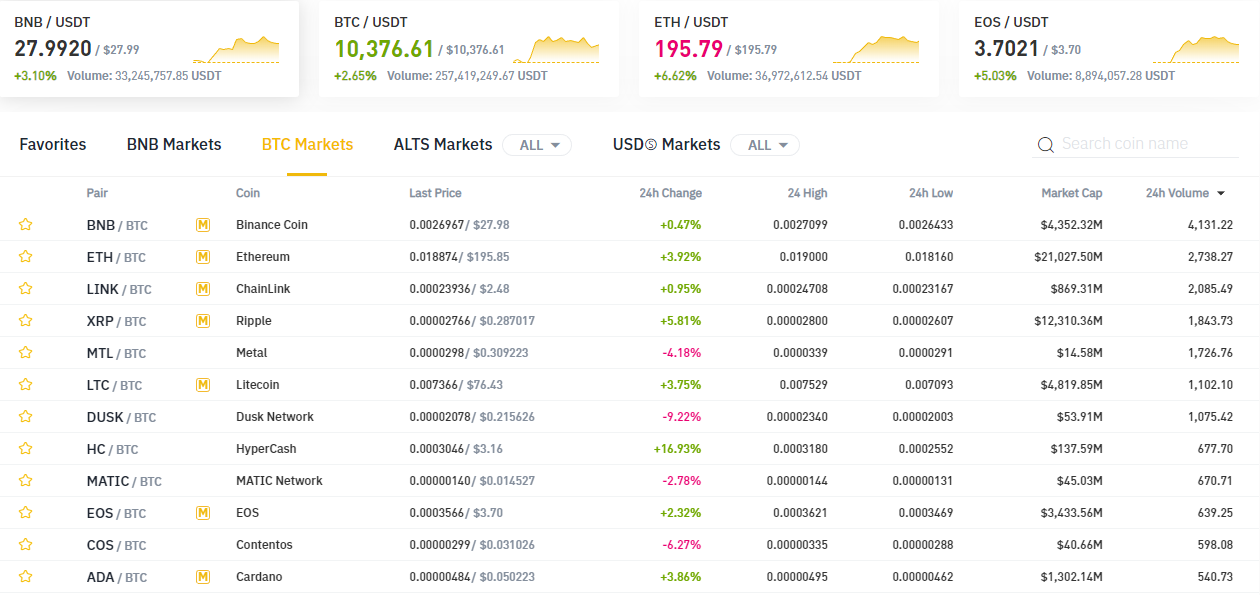 Payment Methods
One important thing to know about Binance is that it only allows you to deposit cryptocurrencies into their system. However, Binance users can use their credit card thanks to Binance's partnership with Simplex and pay in fiat currencies (e.g. USD, EUR, and GBP). From there, you'll have cryptocurrency in your Binance wallet, and you'll be able to deposit, withdraw, and exchange freely within their system.
Binance has an excellent track record for offering new coins quicker than many of its competitors, which entices users to use their exchange service. This way, they can get new currencies at favorable prices before it starts gaining traction in the market. Binance's quick offerings are yet another stand-out feature of their services.
Binance Fees and Limits
As with all cryptocurrency exchanges, you'll have to pay fees to carry out specific actions. However, Binance has a serious edge on its competitors by making a consistent effort to minimize these fees for its users. If you're big on avoiding fees, this platform may be the right one for you.
For instance, they generally charge a flat rate of 0.1% as a trading fee, a rate that is nearly unheard of in the exchange industry. Many companies charge twice that amount. If you plan to trade in high volumes frequently, this may be a money-saving advantage.
As with many similar exchanges, Binance evaluates its trading fees based on the user's trading volume during the previous 30 days. With the exception of blockchain fees, deposits are free. As for the withdrawal fees, you can find a detailed table on their website Binance.com, highlighting the fees for each particular cryptocurrency.
Binance Coin (BNB)
Any time you trade using Binance Coin (BNB), you automatically receive 25% off your trade fee. This is a nice touch that encourages users to continue using the exchange and its currency while also rewarding them for doing so. Overall, Binance's fees are quite fair and generally cheaper than those of most of its competitors.
Binance Support
Since the beginning, Binance has put customer support high up on its priority list, emphasizing user-friendly experiences. Their customer-centric attitude, low fees, and extensive service offerings have secured them as an industry leader. So, what can you expect out of Binance from a customer support perspective?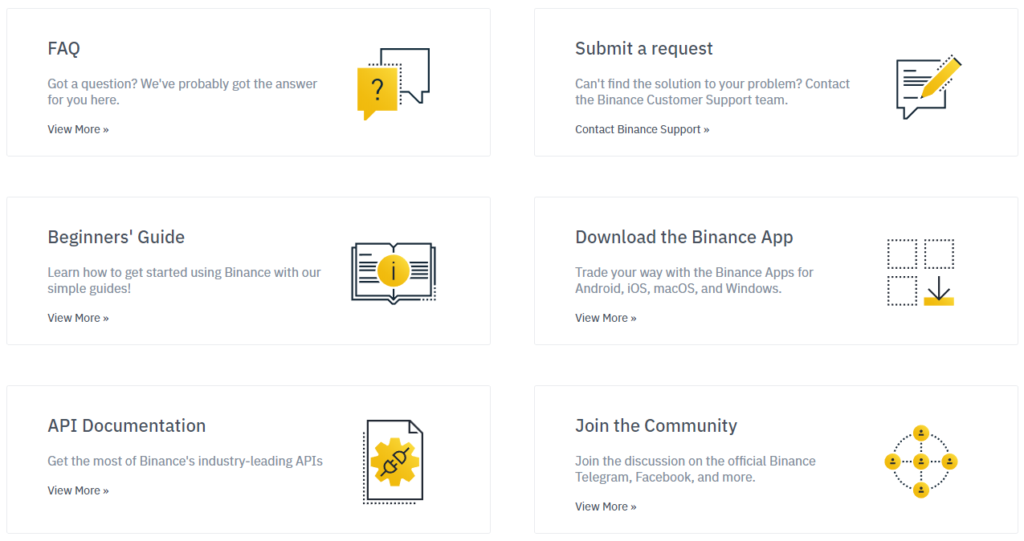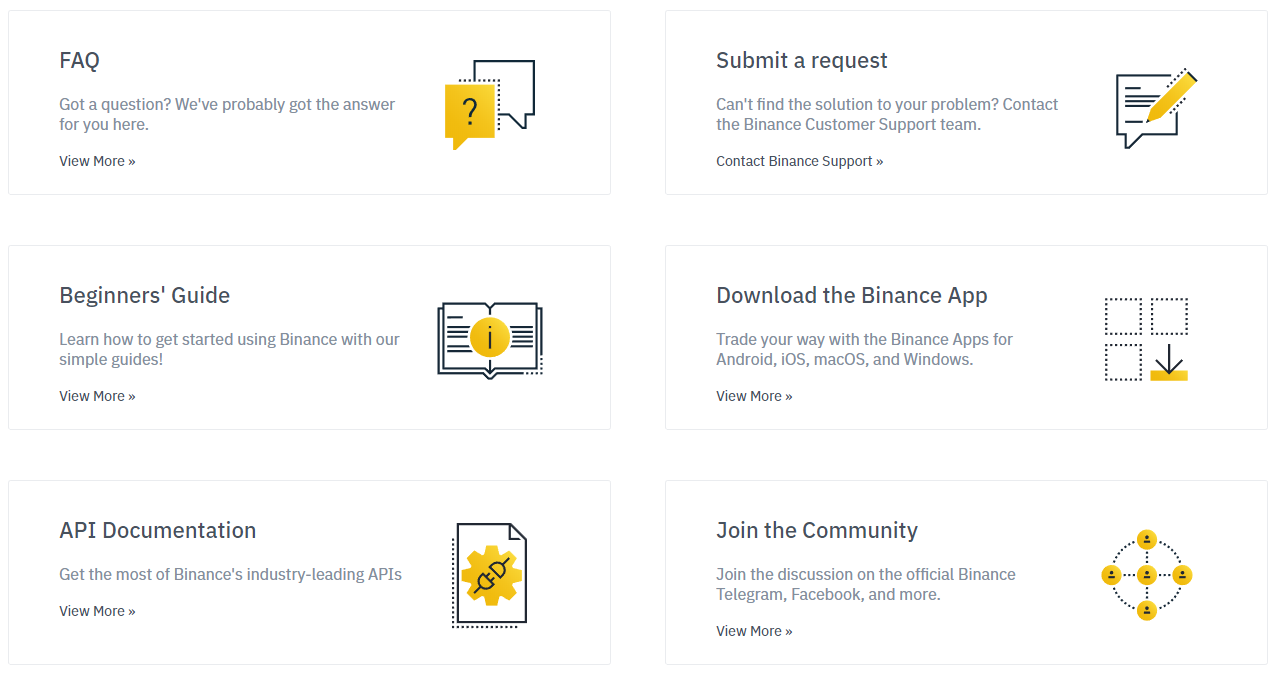 Most users seem to step away from Binance's support team satisfied and without any complaints on social media. The most common way that anyone with a problem or inquiry can reach customer service is via their site's email contact form. Although the response time may not always be fast due to a high volume of inquiries, most customers have reported positive outcomes from this support channel.
Other than the email contact form, they also have a customer service chatbot. This resource is best reserved for inquiries or FAQs. For rare or specific problems, the chatbot won't be helpful as it generates an automated response. Depending on the nature of your problem, you may be able to find the answer in their website's FAQ section before submitting a request to their support center.
Binance's customer support system is quite good and has received mostly positive reception from users. When you consider that there are a handful of exchanges out there that are notorious for delayed, low-quality customer support, this is an accomplishment. Even if Binance's responses aren't always as instantaneous as users might like, their support staff aims to provide solutions as quickly as possible.
When it comes to safe trading and data protection, Binance makes user security a top priority. That's why hundreds of people trust Binance with their currency trading every day. They may be relatively new to the exchange industry, but they've proven themselves by incorporating effective security features into every aspect of their system.
When creating your Binance account, you'll have to wait for your identity to be verified if you want to gain level 2 access (up to 100 BTC withdrawal limit). Identity verification is a security measure that prevents scammers and money launderers from working through their exchange service. Once you've passed the KYC check and provided a photo ID, you'll be verified and ready to begin trading.
Binance uses two-factor authentication to ensure that your financial assets, account, and data stay as safe as possible. A common security measure for financial accounts, two-factor authentication requires you to enter your password and an authentication code from Google Authenticator that is sent to a device of your choosing. That way, you have one more safety measure standing between your account and anybody who would try to gain unlawful access to it.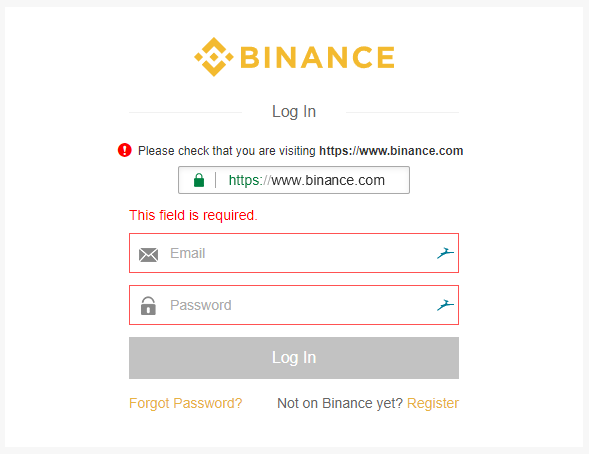 In March 2018, Binance was nearly the victim of an attempted hacking scandal that could have cost their users thousands of dollars and ruined the company's reputation. Hackers used a phishing scam to collect user login information with the intent to trade currencies in a way that would raise the value of Viacoin. They were hoping to sell their own Viacoin for a huge profit when the currency was at its peak. Fortunately, Binance had systems in place to stop this crime before the hackers could get away with it.
In the end, their automated systems caught the trade activity in time, nobody had their money stolen, and the hackers ended up losing all the contents of their accounts. Binance's quick retaliation underscored its reputation for excellent security. They additionally offered a $250,000 bounty to anyone who could help bring the criminals to justice. This would-be disaster was a great example of how Binance's security systems keep users' assets safe when the pressure is on.
Unfortunately, Binance did suffer a successful hack in May 2019. A skilled hacker managed to gain access to user information, bypass the security system, and withdraw over $40 million in cryptocurrencies. Binance responded by completely covering the losses via their security fund (SAFU), serving as a testament of their integrity and honesty, despite the fact that their security measures were bested on that day.
Frequently Asked Questions
Here are a few of the most frequently asked questions about Binance.
Does Binance Have an App?
Yes. In the spirit of always striving to make their services sleeker, more efficient, and more user-friendly, Binance does have a desktop and mobile app. Once you've created a Binance account, download the app and link it to your account. After you have done those two things, you can start trading using the app.
The mobile version is available for Android from the Google Play store, but its status for iPhone users is more unclear. Though it was previously on the iOS App store, over time, it was occasionally removed for unknown reasons. In those past instances, an iOS version was always available from Binance's website, but that's not currently the case (as of August 2019).
Binance has been silent on this issue, so it's unknown when and if the app for Apple users will return. You can also download the Android and desktop versions directly from Binance's website. The desktop app is available for both Windows and MAC users.
Does Binance Support Margin Trading?
Yes. Binance supports margin trading with 5x leverage. It also offers futures trading with up to 125x leverage for experienced traders.
The Bottom Line
Since launching in July 2017, Binance has taken the cryptocurrency exchange industry by storm. Their strongest point is their commitment to iron-clad security along with making sure any security breaches don't cost their clients. Their fees are fair, their customer support is helpful, and their app is convenient.
If you're looking for an exchange that boasts low fees, high liquidity, dozens of different coins to choose from, market depth charts, order books, and a customer-centric focus, be sure to give Binance a look (and if you're looking for something else, we also built a resource around Binance alternatives).
Disclaimer: Digital currencies and cryptocurrencies are volatile and can involve a lot of risk. Their prices and performance is very unpredictable and past performance is no guarantee of future performance. Consult a financial advisor or obtain your own advice independent of this site before relying and acting on the information provided.