Bitbuy Review 2022 – Canadian Crypto Exchange
Disclaimer: We may receive a commission for purchases made through the links on our site. However, this does not impact our reviews and comparisons. Learn more about our Affiliate Disclosure.
Founded in 2013 by Adam Goldman and Ademar Gonzalez, Bitbuy.ca started under the name InstaBT. It was created to be Canada's best Bitcoin exchange, which was challenging to come by in the early days of cryptocurrency. As cryptocurrency took off, InstaBT rebranded to Bitbuy and started offering a greater variety of other digital currencies as well.
They received a substantial investment from a private equity firm in 2018, which has enabled them to expand their services further and cater to the Canadian cryptocurrency market, and eventually managed to become one of the best bitcoin exchanges in Canada.


Bitbuy is run out of Toronto and is owned by First Ledger Corporation, which offers several cryptocurrency solutions, including blockchain consultation and digital currency merchant offerings. Bitbuy is their primary focus, though, providing Canadian cryptocurrency trading platforms with an advanced trading platform that offers a single-view solution that works on both desktop and mobiles.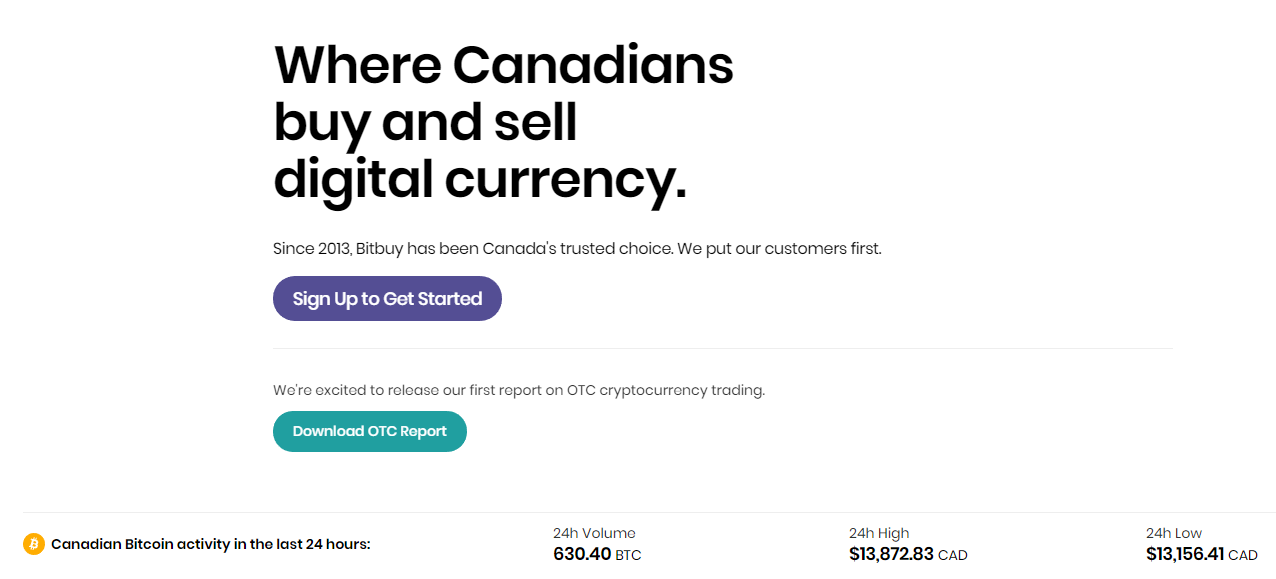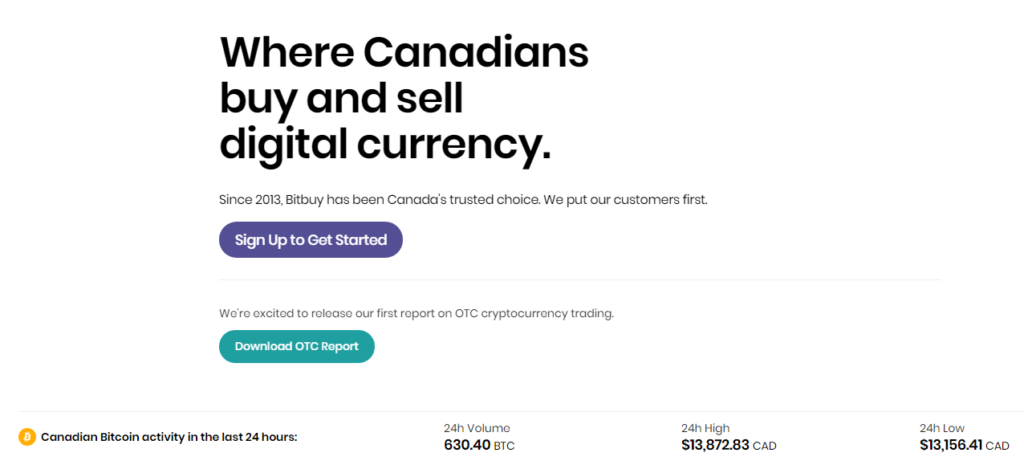 Bitbuy Services
Bitbuy is the first regulated crypto marketplace in Canada. It has two different platforms aimed at different users. The Express Trade Platform has a novice-friendly design, ideal for those who want to get access to the most commonly bought cryptocurrencies. The trading interface is simple, user-friendly, and offers all the basic functionality that you'd expect from an exchange.
There are options to buy and sell, as well as to deposit or withdraw currencies. What's convenient about the platform is that it provides you with a real-time price. You'll know what rate you'll be getting for a sale or purchase at that particular moment in time.
More advanced traders prefer to have a bit more information before making their purchases and sales. That's where the Pro Trade Platform comes in. It's similar to other exchange platforms with a customer order book matched to the exchange matching engine. Most experienced traders will be familiar with many of the features included in the Pro Trade platform, including market depth charts.
The platform also uses Tradingview technology to provide users with all the charts and information they need to conduct a thorough analysis of the market and any purchasing or selling decisions. You can also customize your screen by popping screens out from the user interface, allowing you to arrange your screens to your preferences.
The Pro Trade platform offers the option to place limit orders and trade in cryptocurrency pairs as well as fiat trade pairs. Bitbuy also has its own Over-The-Counter OTC desk aimed at large-volume institutional traders.
Overall, Bitbuy finds a good compromise between information and ease of use, allowing both new and experienced traders to get what they want out of the platform.
Buy Bitcoin and Other Cryptocurrencies
Bitbuy currently supports 15 cryptocurrencies.
You can pay for these cryptocurrencies using a variety of different methods, including bank transfer, SWIFT payment, and cryptocurrency on the Pro Trade platform.

Trading Fees and Limits
Fees
If you use the Express Trade platform, you will pay a flat 0.75% of any buy order and a 0.5% fee on any sell order. The Pro Trade platform uses the maker/taker model to calculate fees. In this model, you pay one of two fees depending on whether you add or remove liquidity from the exchange. In general, market orders that execute immediately are charged taker fees, while limit orders are subject to maker fees. Maker fees are charged at 0.16%, while taker fees are 0.26%.
Bitbuy also charges withdrawal fees, which depend mainly on the type of payment method you choose. Expedited bank transfers and Express Interac e-transfers are the most expensive, charged at 3.00% and 3.50%, respectively. If you want to withdraw money in USD as opposed to CAD, you can expect to pay 5.00% per withdrawal. There are no fees when you deposit cryptocurrency. When you withdraw cryptocurrency through the Pro Trade platform, there are minimal fees.
The full list and explanation of fees are available on Bitbuy's support page. These fees are included in the price given by Bitbuy when you place an order, so you'll never be surprised by an unexpected fee. Despite this, it's always worthwhile to compare the fees between different exchanges. In general, Bitbuy offers some of the most reasonable fees of the Canadian exchanges.
Limits
There are no maximum limits on the amount of cryptocurrency you can deposit, and relatively small minimum limits as well. When you deposit fiat currency, the minimums and maximums will depend on the payment method you use.
There is a minimum wire transfer deposit of $10,000 and a maximum deposit of $500,000. If you use Interac e-transfer, you need a minimum of $100 and can deposit a maximum of $10,000 every 24 hours. If you use the Express Interac e-transfer service, you need to put in a minimum of $500, and the maximum remains the same as for the ordinary e-transfer service.
Withdrawals are subject to the same conditions as deposits. The limits will largely depend on your payment method, with the largest deposit you can make being $500,000. There are also limits on the amount of cryptocurrency you can withdraw, with a maximum of $10,000 equivalent in 24 hours.
Customer Support
Customer support is usually a weak point of cryptocurrency exchanges. Not only do most of them have few ways for customers to get in touch; the responses typically take days to come through and are usually frustrating vague. Luckily, Bitbuy offers users a wide array of contact options. There is an actual customer support phone line, live chat help, and a support email address if all else fails.
Of course, for many routine questions, it's always a better idea to check out the FAQ and support section. Bitbuy has a relatively comprehensive support section, with plenty of resources available to help newbies and experienced traders navigate the basics of using the Bitbuy platform.
Bitbuy also responds regularly to users on social media, and most customers report being satisfied with the service they receive. Bitbuy regularly communicates with communities to find out what features they'd like to see and are generally engaged with their customers.
Is Bitbuy Safe to Use?
The most important question that you should ask before signing up for a cryptocurrency exchange is, 'Is it safe?' Due to several high-profile hacks, most cryptocurrency exchanges have taken extensive measures to protect both their assets and their reputation. Many have invested in security to prevent hackers from getting access to their servers. Most high-profile cryptocurrency exchanges have also taken precautions to protect both users and exchange assets if an attack does succeed. In this sense, most cryptocurrency exchanges are safer now than they have ever been before.
Another concern that users have is whether a cryptocurrency exchange is a scam or not. Everybody has heard the same nightmare stories. Traders buy up large amounts of cryptocurrency, only to have the exchange refuse to send their coins, running off with the money instead. In retaliation, many large exchanges have started registering with government organizations, which allows the government to investigate all cases of potential fraud or misconduct.
Bitbuy-side
Bitbuy is registered as a money services business (MSB) by the Canadian regulator FINTRAC. They need to comply with the same regulations and guidelines as all other financial institutions. If Bitbuy faces a fraud or misconduct accusation, they have to be audited and are subject to investigation. Bitbuy also has to comply with Know Your Customer (KYC) and Anti-Money Laundering (AML) guidelines, necessitating the identity verification process.
Many cryptocurrency exchanges don't divulge their IT security infrastructure, for apparent reasons. However, Bitbuy states that they use industry-leading security protocols and that they store 95% of their customer's coins in cold storage. Cold storage is an industry-standard wherein coins are kept in offline locations that can't be accessed via an online hack. Cold storage wallets have become a standard security feature after the infamous Mt. Gox attack in 2014—where over 850,000 bitcoins were stolen from an exchange and never recovered.
To prevent DDoS attacks, which can cripple an exchange's functionality, Bitbuy completes daily encrypted and distributed backups of their servers. These backups, combined with industry-leading security technologies, should help them withstand DDoS attacks, which may otherwise result in expensive and frustrating downtime for the exchange.
Bitbuy also completed a proof of reserves audit to reassure customers and investors that they are liquid and financially secure. The audit looked at both digital and fiat holdings, verifying that both were verified by existing documentation. The audit's finding showed that the sum of digital holdings matched user account balances precisely and that bank statements verified all fiat holdings. Bitbuy plans to have these audits regularly, ensuring transparency and openness in their financial health, which will be a massive benefit for investors and users of the exchange.
User-side
While Bitbuy has a responsibility to keep the coins on the exchange safe, users also have a responsibility to keep their account secure. In general, most attacks happen to individual users who have their login credentials stolen and their accounts emptied. That's why Bitbuy encourages best practices to help users keep their credentials safe.
Two-factor authentication is standard on the Bitbuy platform, meaning you can't access your account without it. Two-factor authentication is required every time you log in, as well as when you initiate any withdrawal from your account.
Bitbuy is also required, by Canadian KYC and AML regulations to verify the identity of every user on the exchange. When you sign up for a Bitbuy account, you'll need to undergo a verification process before you are allowed to trade.
Individuals need to submit a photo of their government-issued photo ID, a selfie of themselves holding the ID, and a picture of a proof of residence. Bitbuy has several documents it considers valid proof of residency, so you should take a look at that list before submitting your documentation. Though Bitbuy doesn't require any proof, individuals must state whether they're a politically exposed person or the head of an international organization.
The verification process, once the documents are submitted, is relatively quick, with most accounts being verified within 36 hours. However, Bitbuy does state that the process can take up to three business days at most. In general, there have been few customer complaints about the process, suggesting that it usually goes smoothly, with no unexpected account suspensions or bans.
Bitbuy user reviews from around the web.
"Bitbuy was great for purchasing ETH. Their user interface was easy to use, their documentation is excellent, and their customer service is outstanding. Highly recommended!"

"Bitbuy was a pleasant experience. They have been extremely helpful with their customer service. It's a growing company, and I haven't seen any signs of it being "out of control". They are very trustworthy!"

"Bitbuy has been a great experience so far. Their customer service was quick to respond to my questions about the deposit promotion. Prit is amazing!"
Frequently Asked Questions
Does Bitbuy have an app?
Yup, they have a super convenient mobile app for trading on the go.
What countries are supported by Bitbuy?
As of today, Bitbuy is only available to Canadian residents over the age of 18 who can verify their identity with a government-issued photo ID. They haven't given any indication this will change in the near future as far as offering international services.
Is buying digital currencies legal in Canada?
Yes, you can legally buy Bitcoin or any other cryptocurrency in Canada. Crypto assets aren't considered legal tender in Canada which means that government institutions aren't in charge of these transactions. However, buying, selling, trading, or even mining cryptos is completely legal.
Does Bitbuy provide a cryptocurrency wallet?
Yes, Bitbuy does provide a cryptocurrency wallet as part of their service, but you can use your own wallet if you wish.
Disclaimer: Digital currencies and cryptocurrencies are volatile and can involve a lot of risk. Their prices and performance is very unpredictable and past performance is no guarantee of future performance. Consult a financial advisor or obtain your own advice independent of this site before relying and acting on the information provided.