BTC Markets Review for 2022 – Crypto Exchange in Australia
Disclaimer: We may receive a commission for purchases made through the links on our site. However, this does not impact our reviews and comparisons. Learn more about our Affiliate Disclosure.
Based out of Melbourne, Australia, BTC Markets.net is one of the more popular Australian cryptocurrency exchanges created to allow users to buy, sell, and trade cryptocurrencies. However, BTC Markets is more than just a platform for trading Bitcoin. It supports many altcoins, which can be traded and sold in exchange for Australian dollars.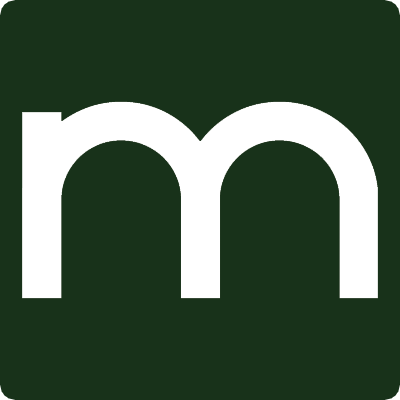 Started in 2013, BTC Markets exchange offers value and reliability to its users, especially those in the Australian market. The platform provides reasonable fees for trades, deposits, and withdrawals, and boasts a large user base and trading volumes.
It is difficult for anyone outside of Australia to use the exchange, which is something the site does intentionally. BTC Markets intends to keep its scope small and narrow, focusing on specifics rather than catering to everyone.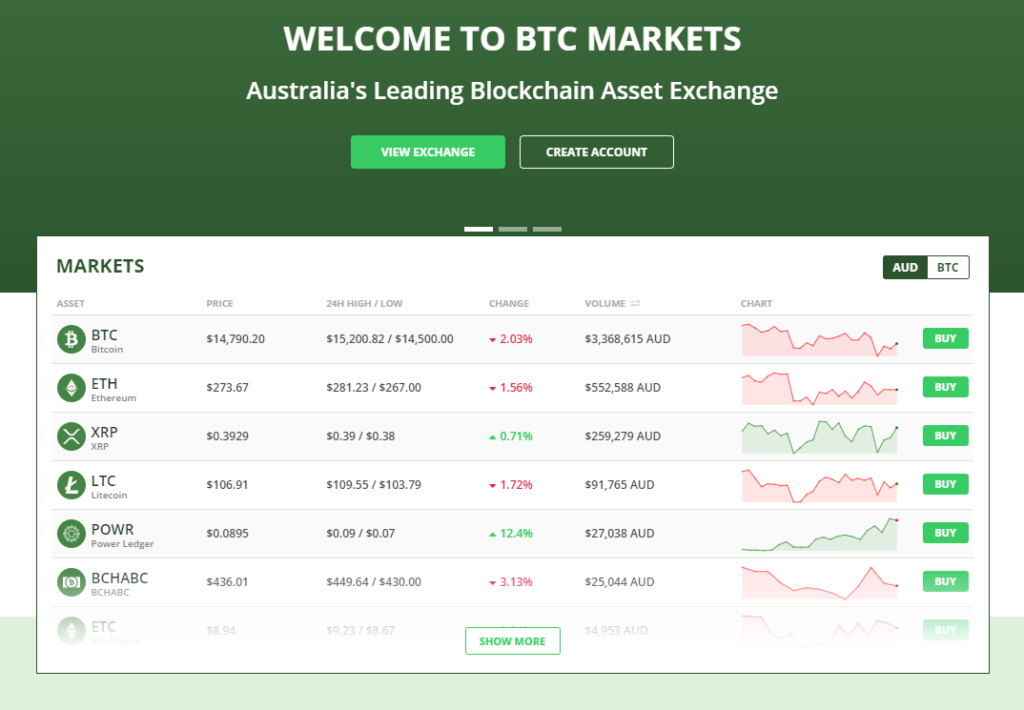 The first impression of the platform is that it's too cluttered and confusing. However, after spending a few minutes using it, customers discover that it's intuitive and not nearly as intimidating as it first appears. BTC Markets offers options that enable both sophisticated and novice traders to have a pleasant experience.
Bitcoin and Other Supported Cryptocurrencies
BTC Markets offers support for many digital assets and trading pairs. It's easy to get started on the exchange platform, so long as you live in Australia. When you're ready to get started in the world of cryptocurrency, head on over to the BTC Markets platform to get started.
Click on the "Sign Up" option and provide the exchange with the information it requests. BTC Markets might ask for personal data, which is typical of all exchanges. They request this information to cut down on fraudulent activities and money laundering.
Sharing personal information is never ideal; however, BTC Markets is a site that submits to Australian rules and regulations. That means you can rest assured that your data and funds are protected and safe.
After you're verified on the site, you can start trading. You may have to wait a few days, but once you're approved, you can trade all the cryptocurrencies BTC Markets supports. These include Bitcoin (BTC), Bitcoin Cash (BCH) Litecoin (LTC), Ethereum (ETH), Ethereum Classic (ETC), Ripple (XRP), OMG, POWER, BAT, GNT, and XLM.
Trading Fees and Limits
If you're an active trader, fees are where you determine whether an exchange is worth your time. There's no point in using a platform if the fees are needlessly overpriced. While BTC Markets isn't the cheapest option available, it is competitive with other exchanges. See their fees here.
If your primary reason for using BTC Markets is due to the fiat currency they accept (Australian Dollars), you might consider looking elsewhere. There are cheaper alternatives that accept AUD.
Essentially, trading one digital asset for another is 0.22% for both makers and takers. That means if you're trading BTC for ETH, both you and the seller are subject to a 0.22% fee. While this might not sound very high, it's four times higher than some exchanges, which charge only 0.05% for the same trade.
The good thing is that deposits are free, and there's no withdrawal fee for AUD bank transfers. If your focus is on trades using fiat currency for cryptocurrency or high-volume trading, then you should consider sticking with BTC Markets. While these trades begin at 0.85%, they can wind up being as cheap as 0.10% if you do a lot of heavy trading.
By comparison, Coinbase charges 3.99%, which means you're getting a great deal on fiat to cryptocurrency trades when using BTC Markets. Thus, Australians experience low fees, even though the exchange is only available to a local market.
Limits Based on Payment Method
After you've registered on BTC Markets and the exchange has verified your account, you are subject to daily transaction limits. The following limits apply when using the platform:
BPAY deposit – $2,000
AUD withdrawal – $8,000
Crypto withdrawal – $50,000
Crypto deposit – $100,000
If you need limits that are higher than what the platform offers, you can request to have them increased. You'll need to provide a reason why you want the limit to increase. It's useful to give BTC Markets a link to your website or social media pages as well as detailed information about your occupation.
Deposits
BTC Markets offers two methods through which you can fund your account: Osko and Bpay. AUD deposits made through both Osko and Bpay are free when using BTC Markets. POLi payments, debit or credit card payments aren't supported.
If you want to make a deposit using Osko, first, sign in to your account and find the menu labeled 'Deposit.' From the dropdown option, select Osko and enter your unique Osko deposit number. Confirm the transaction and organization information, then submit the payment. Osko deposits are quick, so it shouldn't take very long before you see your funds show up in your BTC Markets account.
The second way you can fund your account is through Bpay. Bpay is a reliable and secure method through which you can deposit monies into BTC Markets. Depositing via Bpay is free. When you're ready to fund your account using Bpay, sign in to your account and find 'Deposit' from the dropdown menu.
Find and select 'Bpay' then enter your Customer Reference Number (CRN). BTC Markets uses your CRN to coordinate your deposit with your account information. Enter the Biller Code, provided by BTC Markets, along with any other necessary information. When the essential information is provided, submit your payment and wait for your funds to arrive.
Withdrawals
When you're ready to withdraw your funds from BTC Markets, log in and find the 'Withdraw' section of the exchange. Find and select 'AUD – Using Domestic Bank Transfer.' All withdrawals to your bank account are free; however, there are a few items you'll want to note:
You are restricted to your daily withdrawal limit
Only withdrawals to bank accounts with your name are permitted
Cryptocurrencies must first be sold for AUD, and then they can be moved to your bank account
Most withdrawal transfers with BTC Markets take 1-2 business days to complete.
Trading
Even though the BTC Markets trading screen looks confusing at first glance, in reality, it's quite simple. The basic trading page offers a chart that shows volume and recent price information. Located above the chart are price stats, which show you the valuation of specific digital assets. Below, you'll notice an interface for buying, selling, and crypto trading.
On the left side of the screen is the Buy option, which automatically fills in the market price of your preferred cryptocurrency. Like some other exchanges, BTC Markets tells you the current price and allows you to spend that amount or choose not to.
However, the exchange also offers a limit order selection, which you can use to create an order when the price changes. That means BTC Markets will fill the order if the market price drops to your desired level. It's not a given, but it can be an excellent way to buy some additional digital assets at a reasonable price.
Customer Support
Like many other exchanges, BTC Markets offers support through an online support page that answers commonly asked questions. If you have a more specific problem, the exchange does have a ticketing system you can use. These types of issues result in direct responses by the BTC Markets customer support team.
Most user reviews complain that the exchange does not offer phone or chat support, which would come in handy when users have questions or issues that could be handled quickly.
BTC Markets: Scam or Legit?
As long as deposits or withdrawals are done with digital assets, you don't have to worry about account verification. On the other hand, if any of the transactions involved fiat currency, then you'll have to verify your account. Identity verification makes the exchange safer.
Verification also allows BTC Markets to comply with Know Your Customer (KYC) and Anti-Money Laundering (AML) requirements and regulations.
For even more security, it is highly recommended that all account holders enable two-factor authentication (2FA). 2FA typically involves a piece of information that must be provided in addition to your password. It creates an extra security layer that helps protect your account in the event someone with malicious intentions attempts to access it.
BTC Markets creates another security layer by implementing a system of hot and cold wallets, along with encrypted wallets which it keeps off-site. This system helps to spread its stored assets between several secured areas. The platform also uses advanced cybersecurity methods which help to ensure that your funds are protected against hackers.
To protect your assets, BTC Markets holds a complete reserve of holdings that matches what customers currently hold on the platform. Hourly audit reconciliations are performed on the site, as well as twice-daily cryptocurrency bank account and cold wallet match confirmations.
It is also highly suggested that account holders move large quantities of digital currencies into an offline storage wallet. Funds in an online wallet are susceptible to attacks, no matter how secure the platform is. An offline wallet isn't connected to the internet, so it's nearly impossible for anyone to gain access to your account without your knowledge.
Verification Process
BTC Market's account verification process is straightforward; however, the site recommends that you read through its terms and conditions before getting started. Once you read and understand what the platform is asking, you'll head to the GreenID page, where you'll verify your identity.
The GreenID section will request that you provide at least one form of government identification. Your passport, driver's license, citizenship certificate, or Medicare card all count as a form of government ID. In addition to your ID, BTC Market wants you to validate your current address. You can do so using the Australian database, referred to as the Australian Electoral Commission, or AEC.
If this isn't an option for you, you can also provide proof of residency by uploading documentation showing your address. This document can't be the same one you used for identification purposes. BTC Markets will accept tenant agreements, bank statements, utility bills, vehicle registration, and other government-issued documentation as proof of residency.
Once you've provided BTC Markets all the requested information, submit it to the site. Soon after that, you'll receive an email notifying you that your submission was received. BTC Market will also let you've either been approved or that they need more information to validate your account information.
If the platform does need more information, you will receive a separate email outlining what is required to verify your information. Respond with the requested information to receive confirmation that your account is approved.
Frequently Asked Questions
Does BTC Markets have an app?
At this time, BTC Markets does not offer a mobile application or support mobile browsers, and it doesn't appear as though they plan on doing so anytime soon.
Trading can be done via smartphone using the BTC Markets website, but doing so is challenging. This is a disappointing aspect of BTC Markets, given the popularity of mobile browsing and app integration.
What countries are supported by BTC Markets?
Currently, BTC Markets is intended for use by those who reside in Australia and are interested in buying, selling, and trading cryptocurrencies.
What fiat currencies does BTC Markets support?
BTC Markets currently supports only AUD deposits.
Does BTC Markets support margin trading?
Unfortunately, the exchange doesn't offer margin trading to its users. If you're interested in such advanced trading features, we recommend checking out Bitfinex instead.
Disclaimer: Digital currencies and cryptocurrencies are volatile and can involve a lot of risk. Their prices and performance is very unpredictable and past performance is no guarantee of future performance. Consult a financial advisor or obtain your own advice independent of this site before relying and acting on the information provided.