Disclaimer: We may receive a commission for purchases made through the links on our site. However, this does not impact our reviews and comparisons. Learn more about our Affiliate Disclosure.
Being one of Australia's oldest crypto exchanges, Coinjar knows the industry inside-out, including its customers.
If you just want to skip to the summary, here it is! Coinjar delivers what they promise, a user-friendly platform with great features.
We really like their Coinjar Mastercard which enables users to spend their crypto the way they would normal cash. In addition, their Bundles feature that combines multiple crypto buys in a single transaction really simplifies building a diverse portfolio.
We're impressed, and they definitely get the thumbs up from us!

If you want to dive deeper into the exchange, keep reading.
About Coinjar
CoinJar is one of the few longstanding and best Australian cryptocurrency exchanges. The platform was founded back in 2013 and its main office was located in Melbourne, Victoria. In 2014, CoinJar registered as a private company under the name CoinJar UK Limited in England and Wales.
The trading platform itself is spearheaded by co-founders Asher Tan, a financial analyst and current CEO, and Ryan Zhou, an engineer and current COO. Both of them have a knack for fintech projects which is why they decided to join their forces on a larger-scale crypto project. Together, they were able not only to expand CoinJar's services and turn it into a leading Australian crypto platform but introduce innovative solutions such as a cryptocurrency debit card and mobile trading apps too.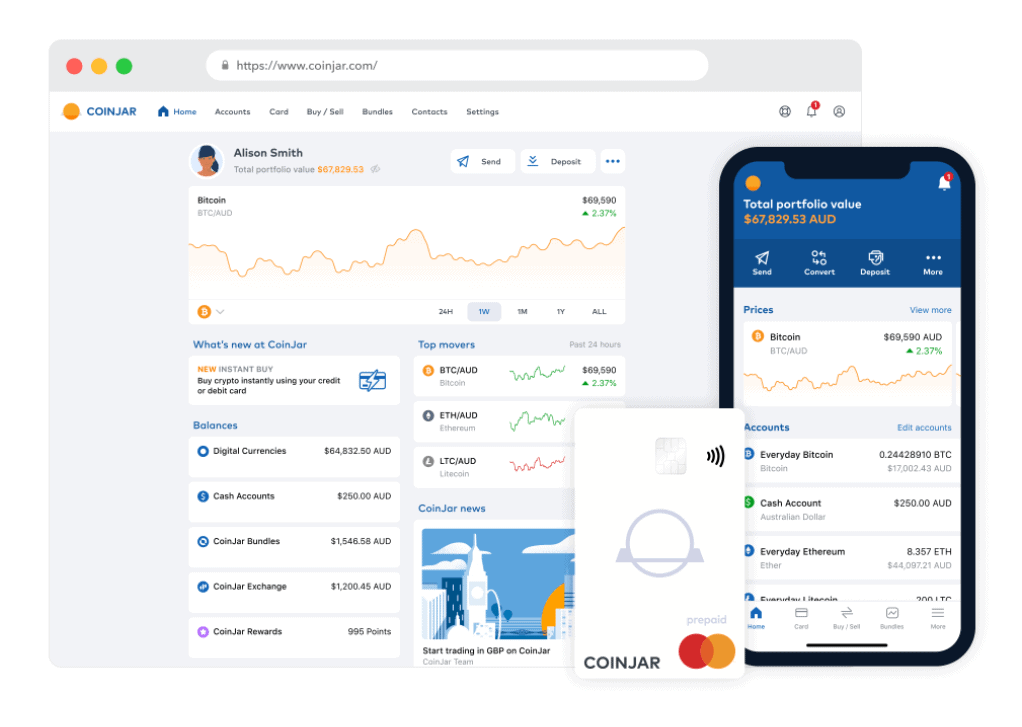 For CoinJar, it's no secret that in order to be successful in the fintech industry, you need to put your customers at the heart of everything you do and take into account their feedback. This dedication and eagerness to transform the cryptocurrency market for both Australian and international citizens didn't go unnoticed by venture capital firms and forward-thinking investors like Boost VC, Blackbird Ventures, and the Digital Currency Group.
So far, CoinJar's services have attracted over 400k traders from all over the world.
Bitcoin and Other Supported Cryptocurrencies
On CoinJar, you can purchase the most prominent crypto assets such as Bitcoin (BTC), Ethereum (ETH), Litecoin (LTC), Ripple (XRP), and Lumens (XLM). They now support over 40 cryptocurrencies.
CoinJar have recently added a number of altcoins to their platform and it also has extensive ERC-20 token support for a range of different Cryptocurrencies.
CoinJar only accepts bank transfers from Australian bank accounts. Other payment methods include PayID, BPAY, and cash deposits via Blueshyft. The platform also accepts debit card payments via its CoinJar Bundles feature (more on that later!). CoinJar accepts two fiat currencies: AUD and GBP. Once you deposit fiat currencies, they go into your Cash Account.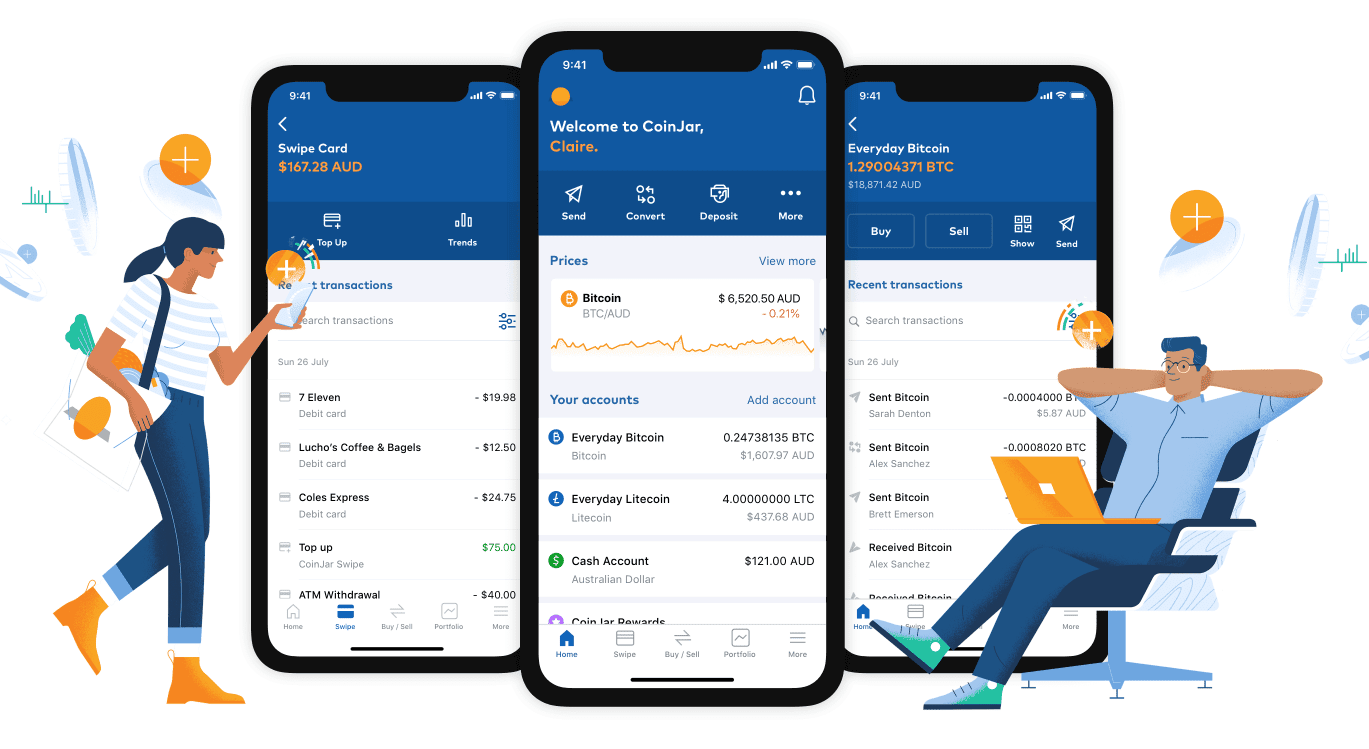 If you choose to use PayID, CoinJar typically receives your deposit within minutes during business hours. However, you might experience a 24-hour delay with the first PayID deposit as your bank usually performs security checks to verify the authenticity of the request. CoinJar uses PayID via Osko, a payment service built on the New Payments Platform (NPP). Before depositing your funds, check whether your bank supports this type of PayID payment.
If you opt for BPAY, the procedure is similar to a bank transfer as you send funds from your online banking. Once you verify your account on CoinJar, you get a unique reference number to save time on your future BPAY payments. However, you should know that these payments aren't instantaneous.
The advantage of BPAY payments is they incur no extra fee as long as you use a regular transaction account instead of a credit card (you'll be charged 2.9%!). The minimum transfer amount is $10, otherwise, you'll be charged a $1.5 processing fee. The maximum deposit amount is $10,000.
Blueshyft payments are available in certain locations where you can deposit physical cash into your CoinJar account for your next crypto purchase. These payments incur a 1.5% fee and have a minimum limit of $50 and a maximum of $5,000 per deposit.
Trading Fees
CoinJar charges a fixed 1% flat fee for instant buying and selling orders on crypto-assets regardless of whether the payment method is via bank account, cash, or another cryptocurrency.
The fees for cryptocurrency exchanges (whether in exchange for crypto or fiat) are different for makers and takers and are based on a 30-day trading volume schedule:
| | | |
| --- | --- | --- |
| Tier | Taker fee | Maker fee |
| | | |
| $0 to $10,000 | 0% | 0.1% |
| $10,000 to $100,000 | 0% | 0.09% |
| $100,000 to $1 million | 0% | 0.08% |
| $1 million to $10 million | 0% | 0.06% |
| $10 million + | 0% | 0.04% |
Trading Features
CoinJar Exchange
Since the regular CoinJar platform functions as a market maker, CoinJar has launched a separate exchange platform aimed at professional and high-volume traders who need more customization on their orders and more advanced trading features. If you're registered on CoinJar, simply use the same email and password to log into the exchange.
With CoinJar Exchange, you can specify the desired price and set a limit. You can check how liquid the assets are and what their current market value is. There are also terms of cancelation to which you can adjust your trade. Although the exchange isn't as sophisticated as other major trading platforms, beginners might struggle reading live crypto market charts so we recommend sticking to the original CoinJar platform.
CoinJar Swipe EFTPOS Card
CoinJar is the first Australian cryptocurrency exchange that has launched a digital currency EFTPOS card that allows you to convert crypto assets into Australian Dollars. Then, you can use your AUD to purchase goods via an EFTPOS terminal or, if the store doesn't accept card payments, you can withdraw cash from a regular ATM. On the ATM, you can easily access your CoinJar account balance. On top of that, this card incurs zero transaction and monthly fees except for a small ATM fee and 29 AUD to activate the card in the first place. The only disadvantage is that you can't use this card overseas but CoinJar is working on solving this issue in the future.
CoinJar Bundles
CoinJar's newest addition is the CoinJar Bundles feature which allows you to buy different bundles, i.e. portions of various crypto assets of your choice within a single transaction and monitor their performance. There are certain ratios that determine the purchase amount. Popular bundles include: the Popular Duo (50% BTC/50% ETH), the Popular Trio (4 BTC/72 ETH/ 44622 XRP), 1 XRP and 1 XLM, etc. The allocation depends on the current market capitalization. The fee per bundle is 1% of the total amount you're spending on the bundle. There are no fees for holding onto the bundle.
Customer Support
In case you have any qualms and queries, CoinJar instructs you to fill out a support ticket and send it to their official email. Their support team should get back to you within the next 24 hours unless the platform is experiencing an increase in inquiries which might cause a delay in their responses.
In the meantime, you're encouraged to browse through their detailed knowledge base and informative FAQ section on CoinJar.com to learn more about the platform's features and unlock the most common trading roadblocks. You can also find them on social media and follow all the latest updates.
Select Premium customers have the advantage of contacting the CoinJar team via a phone number, Monday to Friday, from 9 am until 5 pm. In our humble opinion, the exchange could benefit from a live chat box to answer customers' most urgent queries.
Is CoinJar Safe to Use?
The fact that CoinJar is registered with AUSTRAC is a clear sign that this crypto exchange is to be trusted. It also means that this trading platform isn't KYC-free as this is a necessary onboarding step for the Australian regulator. Without a proper ID, customers can only use their CoinJar account as a digital wallet that allows them to send, receive, and store cryptocurrencies with no option to buy or sell any.
Moreover, to protect its website from outsiders and safeguard customers' data, CoinJar employs data encryption, Transport Layer Security, and performs security audits every once in a while. On top of that, the platform uses advanced machine learning techniques to identify any shady and under the counter activity. Plus, customer funds are safely stored offline in cold storage in various locations.
To add another layer of protection to their account, users have the option to activate two-factor authentication (2FA) whereby you'll need to provide an additional code sent to your mobile device together with your email and password in order to log in. Nowadays, there are separate authentication apps that can be easily downloaded to your phone.
Frequently Asked Questions
Is cryptocurrency legal and taxable in Australia?
Yes, since 2013, it's legal to buy, sell, own, or trade any cryptocurrency in Australia. Their legitimacy was granted by the governor of the Reserve Bank of Australia (RBA). However, there's no universal regulatory framework that monitors cryptocurrency transactions or protects crypto users from thefts and frauds. Some steps have been made in this direction such as the main Australian financial regulator AUSTRAC requiring cryptocurrency exchanges to comply with AML and CTF policies in order to offer their services in Australia.
As far as taxes are concerned, since cryptos are treated as property, they're also subject to Capital Gains Tax (CGT) if you make any profit out of them as a crypto owner/trader. In the past, there used to be double taxation, so this is considered a major improvement.
What countries does CoinJar support?
For the time being, Australia and the UK are the only two countries whose residents are able to enjoy the full benefits and features of CoinJar. Although CoinJar is regarded as a global exchange, due to different regulatory frameworks, most international citizens can only receive and store cryptocurrencies on their CoinJar account. As the platform continues to grow and attract overseas attention, its levels of compliance will adjust to meet local regulations as well.
Does CoinJar have a mobile app?
Yes! As a crypto platform known for its easy-to-use innovations, creating a mobile app that would bring CoinJar into the hands of thousands of users has been on the company's mind since its early days. Launched first as an iOS app and recently available for download on Android phones as well, the CoinJar mobile app allows users to buy, sell, and store cryptocurrencies quickly and effortlessly wherever they are. For those of you worried about the safety of your funds, the CoinJar app lets you activate fingerprint of face authentication.
Related:
Disclaimer: Digital currencies and cryptocurrencies are volatile and can involve a lot of risk. Their prices and performance is very unpredictable and past performance is no guarantee of future performance. Consult a financial advisor or obtain your own advice independent of this site before relying and acting on the information provided.