Disclaimer: We may receive a commission for purchases made through the links on our site. However, this does not impact our reviews and comparisons. Learn more about our Affiliate Disclosure.
It's fascinating how cryptocurrency exchanges have grown over time. The days when crypto trading was just buying and selling Bitcoin are far gone, so this rapid development doesn't surprise me at all. The thing is that crypto assets have proven excellent instruments for the traditional "trading games" like derivatives and margin trading, so many new platforms are heading in this pro-trading direction.


While I highly respect veteran crypto platforms for their role in establishing a basis for the mainstream crypto industry, I find these new solutions far more attractive these days. I simply like their formula for reaching broader public attention — a cutting-edge platform combined with low fees and feature-rich markets.
So, today I'll present one of the most impressive crypto trading platforms of the new crypto era — FTX. While I expected nothing less in design from an exchange released in 2019, FTX took my breath away with the affluent and well-crafted feature set.
Website: https://ftx.com/
Country: The Bahamas
Mobile app: Yes
Deposit Methods: Depends on the deposit currency and location — wire bank transfers, credit card/debit card, PayPal, Silvergate SEN, etc.
Trading Fees: 0.000% – 0.070%
Fiat Currencies: USD, AUD, GBP, EUR, and 10+ more
Cryptocurrencies: Bitcoin (BTC), Ethereum (ETH), Solana (SOL), Litecoin (LTC), Bitcoin Cash (BCH), and 300+ more
Pros
Competitive fee system with option for VIP discounts;
One of the few derivatives platforms with an AUSTRAC license;
A highly sophisticated platform for futures trading;
Supreme trading engine with charts powered by TradingView;
Wide choice of markets and digital assets.
Cons
No beginner's mode;
Fairly responsive customer support;
A limited number of AUD trading pairs;
A separate account for access to the NFT market.
What Is FTX?
FTX is a global cryptocurrency exchange registered in the Bahamas, with headquarters in Antigua and Barbuda. The exchange was launched in 2019 by two renowned IT experts, Sam Bankman-Fried and Gary Wang.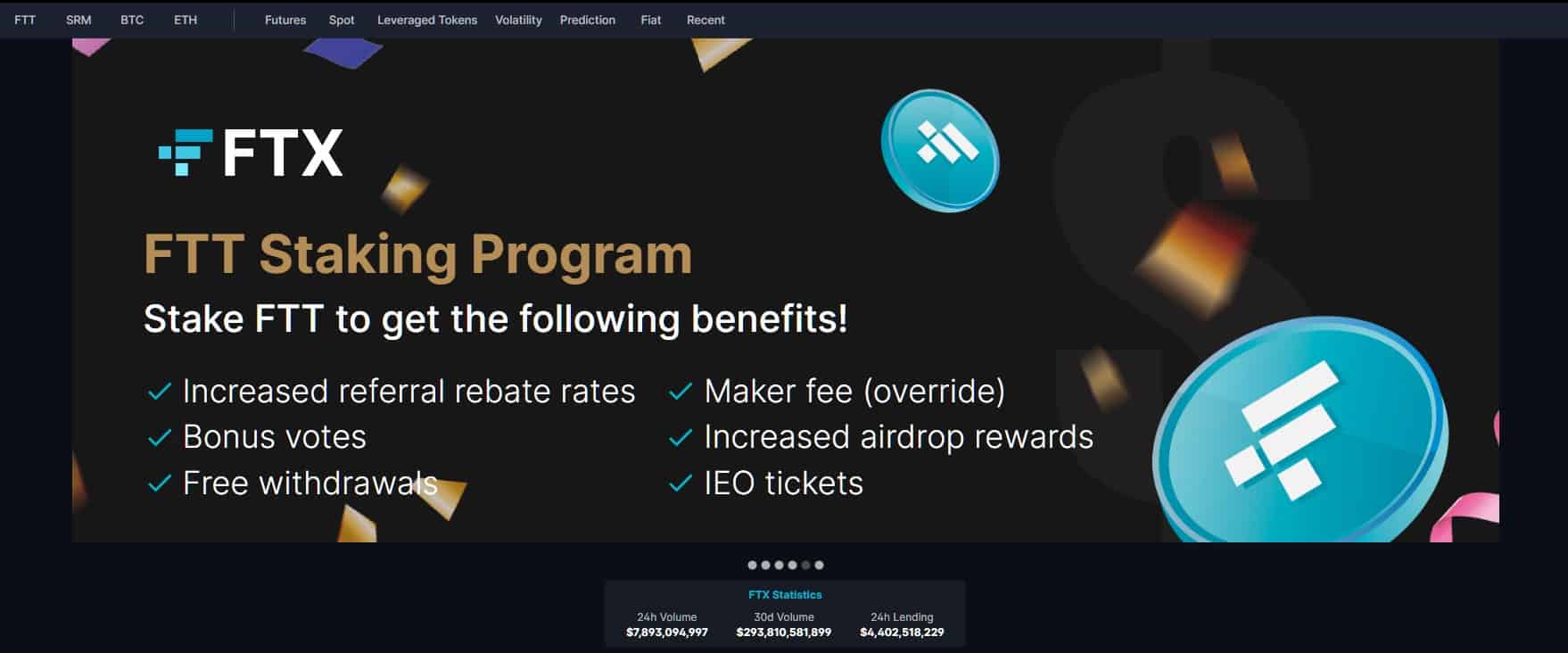 I remember that FTX appeared under the motto "from traders to traders," giving me a clear hint of the service delivery I could expect. Yet, after my first visit to the platform, I realized that we got a masterpiece.
FTX offers a large spot market and a myriad of trading options for futures contracts, margin trading, staking, and later, an NFT marketplace. All these features are packed in a simple and intuitive UI design and enhanced by a large-open deposit sector.
Expectedly, FTX became an instant global hit and one of the most popular trading spots for professional crypto traders. It grew into an $18 billion worth company only two years after its inception, and just for the record, the company donates 1% of the trading-fee review to charity.
The off-shore setup of FTX shouldn't worry you as the exchange operates on fully regulated grounds in Australia, earning an Australian Financial Services License, which enables the platform to offer derivatives products to local traders. On the other hand, U.S. residents aren't allowed access to FTX's global platform due to regulatory restrictions. They can reach FTX.US, but this version is very limited in terms of supported cryptocurrencies and advanced options.
How Does FTX Work?
FTX operates as a centralized cryptocurrency exchange with the main focus on derivatives. This means that apart from the order-based trading platform, you can also enter an options and futures market, leveraged assets, and NFTs. Or, if you invest in a large amount of crypto, you can opt for a separate OTC desk with guaranteed liquidity.

As such, FTX is a perfect match for experienced traders who dare to explore new crypto worlds and institutional investors looking for an ultimately professional touch. On second thought, I won't discourage beginners from spending some time on the FTX platform. The feature set may be highly advanced, but the UI is exceptionally intuitive.
Apart from the trading platform, the exchange offers an FTX debit card, which is linked to your in-exchange wallet and allows you to spend your crypto funds at any location that accepts a Visa card.
On top of this, FTX has its own token (FTT), which serves as a utility token and helps its holders to get trading-fee discounts on the exchange or earn interest from the token reserves.
Last but not least, the full package may not be available in your country of residence, so don't start before double-checking the geographical requirements.
Cryptocurrencies Available on FTX
FTX features an impressive selection of over 300 cryptocurrencies available on the spot market. This includes Bitcoin (BTC) and other popular cryptocurrencies like Ethereum (ETH), Litecoin (LTC), Dogecoin (DOGE), BNB Coin (BNB), and Cardano (ADA), a vast array of DeFi tokens, such as Aave (AAVE), 1Inch (1INCH), and Uniswap (UNI), and the market-dominant stablecoins Tether (USDT), Dai (DAI), and USD Coin (USDC).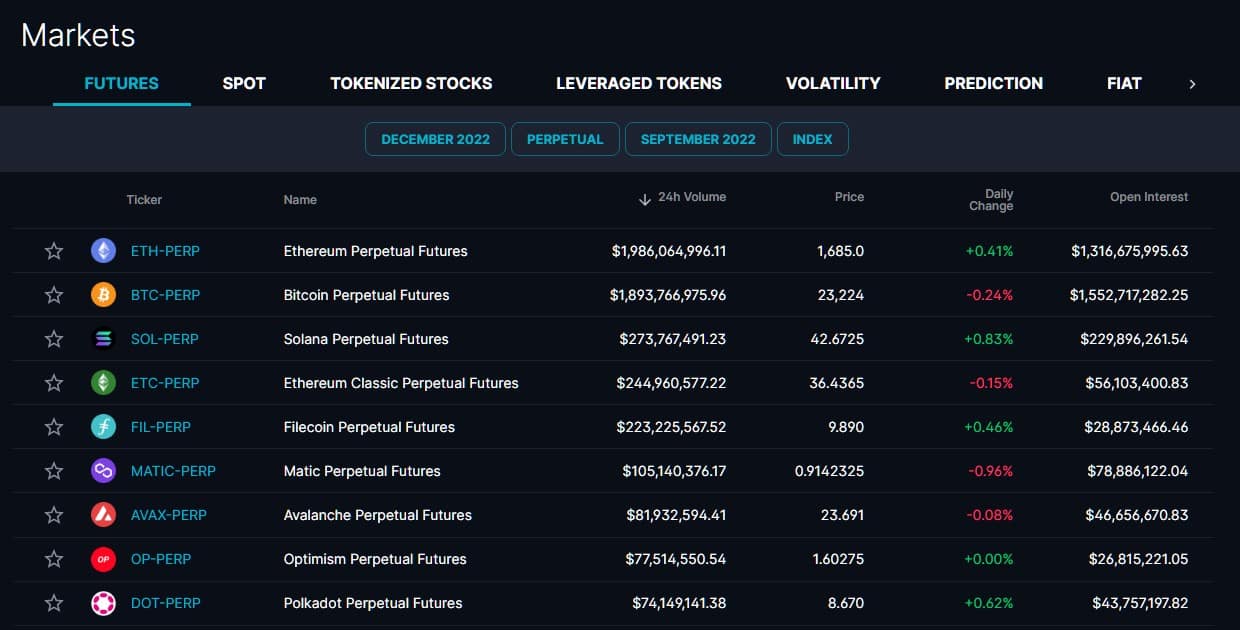 They can be traded against BTC, ETH, USDT, or some of the supported fiat currencies (mostly USD). As far as I could see, there were only two trading pairs with AUD as a base currency — BTC/AUD and ETH/AUD.
The futures market contains many of the coins and tokens listed on the spot market in the form of both perpetual and 0930 futures contracts.
Key Features and Advantages of FTX
I can readily say that the FTX team simply knows how to keep your trading spirit alive. And the best thing is that I never felt overwhelmed by the countless trading features available on their platform.
On the contrary, exploring the FTX features was a fully crypto-enjoyable experience for me. Now, let's see what exactly the exchange offers — as picky as you are, there must be something to catch your attention.
Spot Trading
Interestingly, even though FTX refers to itself as a derivatives exchange, the first option I checked out was the spot market. For me, the spot market is always the measurement unit for the overall performance of a particular crypto exchange.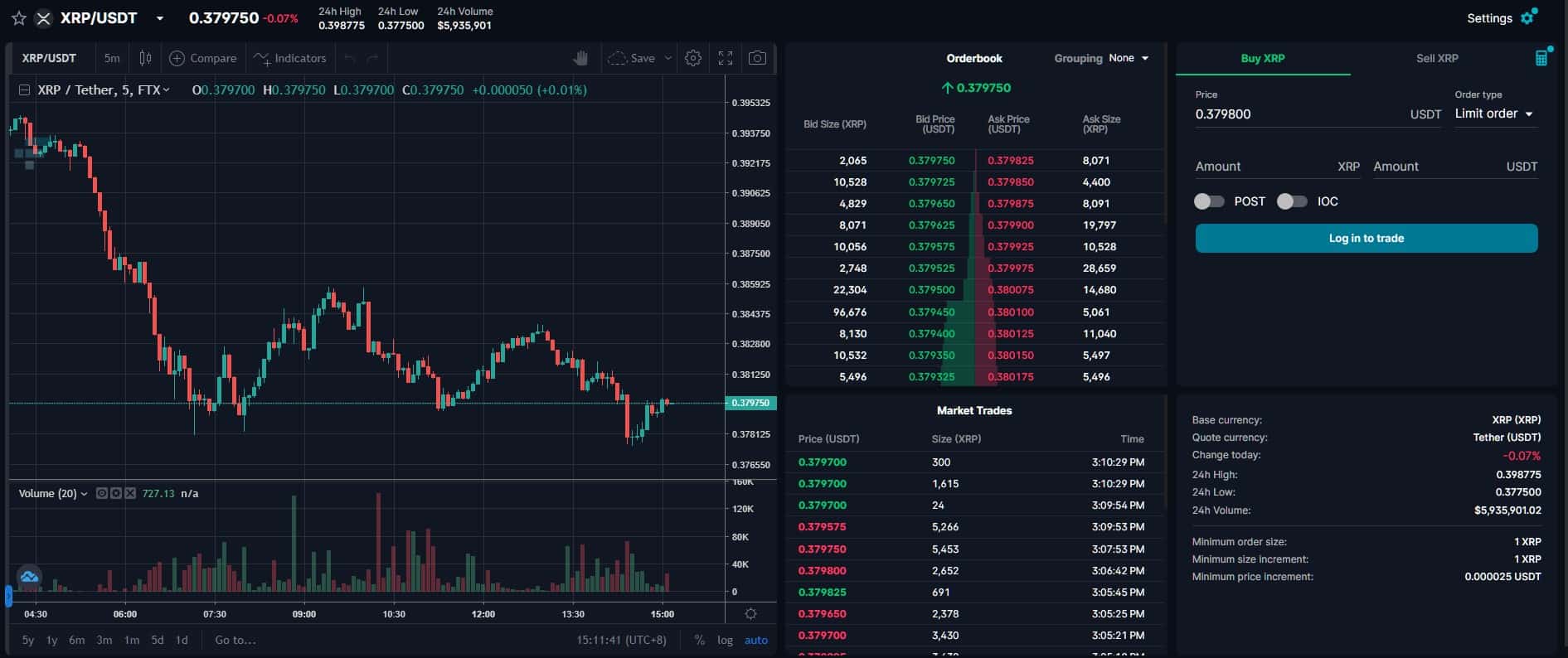 As I already told you about the choice of tradable assets on FTX, I'll move on to the next best thing — navigation. You can easily "walk" across various markets through the top bar, or you can choose markets from the trading ticker by hovering over the dropdown button.
I wouldn't say the interface is simple, but it's incredibly intuitive if you know where you're heading. It's more or less the same for both the spot and the futures markets. I was impressed by how adjustable a trading interface can be.
For starters, you can arrange all displayed panels (order book, entry book, etc.) in the order you wish just by dragging the panels around. Then, in the upper-right corner, you can find a layout settings menu, where you can check and uncheck which visuals will be shown on your trading page. At the same time, you can also choose which markets you want to follow.
The design aside, I'd like to point out that the FTX spot market supports spot margin on almost all available assets. The leverage upper limit and the borrowing interest are calculated individually for each coin/token, so you can take a detailed look on the FTX borrowing page.
Tokenized Stocks
Tokenized stocks are growing very popular in the investors' community, but I have the impression that exchanges are a bit reluctant to implement this option on their platforms. That's probably because tokenized stocks require the exchange to meet high regulatory standards. FTX conveys this feature through Canco GmbH or FTX Switzerland, which is an authorized financial intermediary to deliver these trading products.
Try to understand tokenized stocks as traditional shares of equity you can find on Nasdaq, for example. The only difference is that this type of equity appears in the form of a digital token. So, you can trade tokenized stocks the same way you trade other spot markets. FTX gives you a list of tokens on the supported equities. For example, you can choose the TSLA/USD market to trade Tesla stock tokens.
Apart from tokenized stocks, FTX can offer tokens on futures, fiat currencies, ETFs, futures, or other tradable assets.
FTX MOVE Contracts
FTX offers this unique feature in its derivatives market, putting futures contracts on a higher level. Yes, MOVE contracts are types of futures that use the change of the absolute value of the asset as a predetermined price. MOVE contracts expire at a given point in time — FTX offers three options: daily, weekly, and quarterly.
To explain, if a weekly MOVE contract is concluded at $600 and the asset price (let's say Ethereum) changes by $200 before the week passes, then the contract will expire at $200, regardless of the change direction (rise or fall). I know it sounds like an attractive opportunity, but I can tell you that it's quite risky, even for professional traders.
MOVE contracts require a margin that is based on the value of the underlying index, which is prone to high market volatility. You can read more details with proper examples on the FTX official page.
Advanced Order Types
When exploring exchanges' features, I always look for the types of orders you can find. On FTX, I expected to see much more than Market and Limit-buy/sell and got exactly what I was looking for.

So, apart from the basic orders, the exchange allows you to choose from a few more advanced orders by clicking the Order Type option on the top-right side of the main Trade page:
Take profit (both Market and Limit)
Stop-Loss (both Market and Limit)
Trailing-Stop
Retry-until-Filled
Nothing can guarantee successful fulfillment of the order you place on the exchange order book, but I do recommend the Retry-until-Filled as it reduces the time for re-placing the same order after it fails to fulfill after a certain period.
NFT Marketplace
NFTs don't need an introduction anymore, and I see a growing number of exchanges offering a separate "art gallery" for popular tokenized artwork. I can only comment that FTX offers a wonderful selection of these crypto collectibles on its separate platform — from bargain products to 6-digit NFT tokens. However, what I dislike is that you have to use a separate account for this feature on FTX.
Quick Coin Swap
This is a relatively new FTX feature, and I can say it's a rather good alternative for an instant market. It enables you to swap any crypto or fiat for another crypto. I would like to say this Convert option is quite good even for absolute beginners because it functions on the well-known brokerage principle — select the coin you want to convert, insert the desired amount, and pick the coin you need in return.
Yet, it seems that it was mainly designed to accelerate the trading process of pro-traders, who need a certain token for opening new positions on the spot or futures markets.
FTX token (FTT)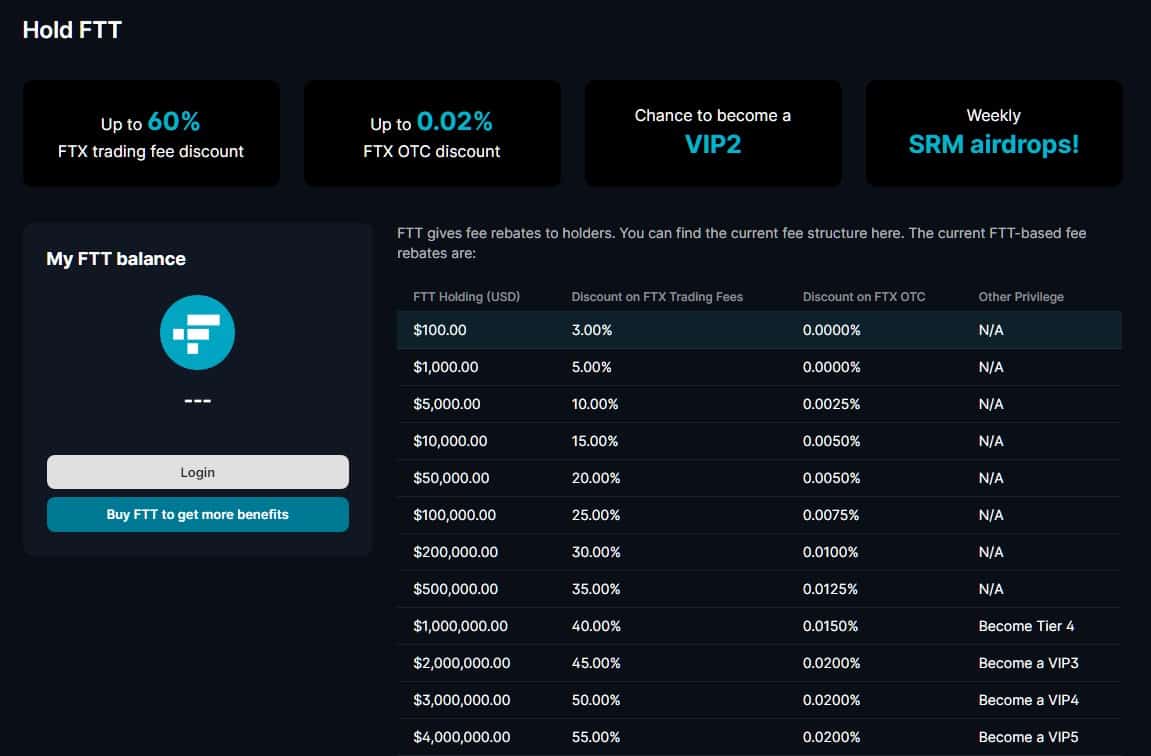 The exchange has released its own coin called FTT. I can assure you that exchange-native tokens can be of great use if you're an active and loyal trader on that particular exchange. FTT holders can get substantial fee discounts and other airdrop rewards for holding/staking their tokens on the exchange. The minimum limit for getting qualified for the FTT benefit package is a collection of around $100-worth FTT tokens.
Leveraged Tokens
I'm sure that leveraged tokens contributed a great deal to FTX's success on a global scale. The concept is very simple — leveraged tokens are ERC20 tokens that come with programmed value against the underlying assets. So, FTX offers 4 types of leverage tokens for all supported futures contracts: BULL (+3x), HEDGE (-1x), BEAR (-3x), and HALF.
For instance, if the Bitcoin price rises by 2% in a single day (which is quite possible), BTCBULL will go up 6%. The point is to avoid the excessive requirement for margin trading — collateral, borrowed funds, and interest rate, but this doesn't make them less risky than margin positions.
In fact, such leveraged tokens are exclusively reserved for up-scale portfolios not only for the risk factor but also because they can be activated on FTX only by trading perpetual contracts.
Staking
I must admit that this part was a bit confusing for me. I've heard from users about the FTX staking platform only to find out that staking as such is possible only with their native coin FTT.

I also discovered that the exchange has a separate Earn Program, where you can get a handsome APY for keeping both fiat currency and crypto on the platform. All holdings below the amount of $10,000 get a fixed APY rate of 8% and 5% above this sum.
However, I'd like to remind you that this option is available only on FTX's app (available on Android and iOS), formerly known as Blockfolio. And one more thing, you can't use the FTX earn program if the Spot Margin Trading option is activated on your profile.
Cryptocurrency Derivatives Trading
Now that you know that FTX is openly geared towards the derivatives market, I'd like to list all types of derivatives products available on the exchange.
Types of Derivatives Products on FTX
The best thing is that FTX offers all possible forms of crypto derivatives trading, thus earning the title of the best exchange for derivatives in the crypto market.
Futures
Options
Swaps
Perpetual contracts
MOVE contracts
As I already mentioned, trading derivatives is a highly risky business. The thing is that you don't directly buy the asset at its current market price. In some way, you "sign" a short-term bet that binds you to buy the crypto at a price stated in the contract when the time comes. Still, if the price goes in a favorable direction, derivatives can be a lucrative source of income.
Educational Content
FTX offers an extensive library with learning materials for all types of services it offers. You can find the educational collection under the Help section both on the main platform and the official app page.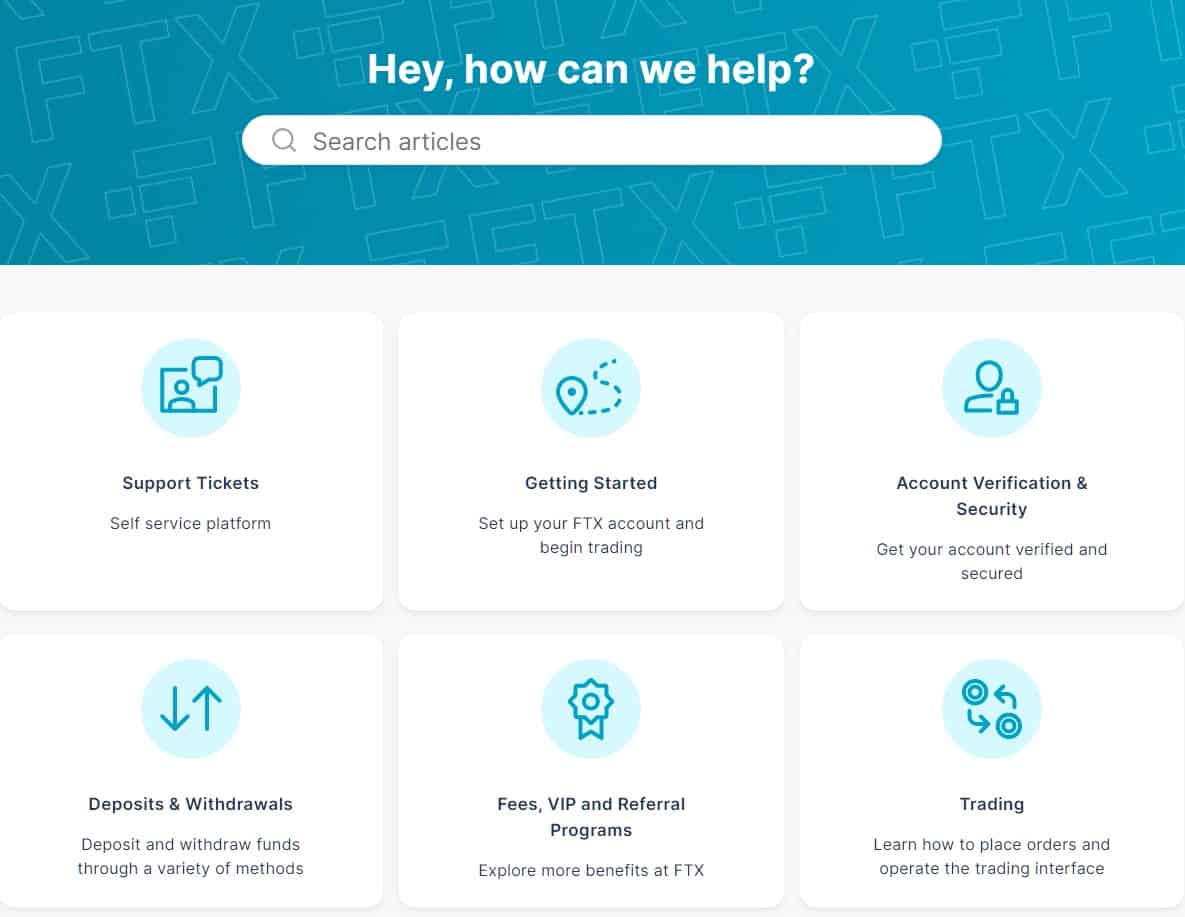 The educational part has become a standard for all well-established crypto exchanges nowadays, but I must point out that FTX is doing a great job in this part. The exchange simply covers everything it offers with walkthroughs, tutorials, and real-life examples.
FTX Fees
Given the variety of different trading services available under the FTX umbrella, you need to pay proper attention to the accompanying fees. But believe me, it isn't as complicated as it sounds. As for all other parts, the FTX fee structure is transparently displayed on their website.
FTX Trading Fees
For both the spot and futures market, the exchange has established a tiered fee system that distinguishes makers vs. takers. Depending on the trading volume, maker fees range between 0.02% and 0,00%, while taker fees start from 0.07% and can go down to 0.04%.
I like that FTX is very generous towards its loyal traders. It offers a VIP program and a referral program for pro traders to reduce their costs even further. I already mentioned FTT holders — they even have an option for a maker rebate, depending on the FTT amount they hold on the exchange. Approximately, you'll need 25 FTT to get down to a market fee of 0.00%.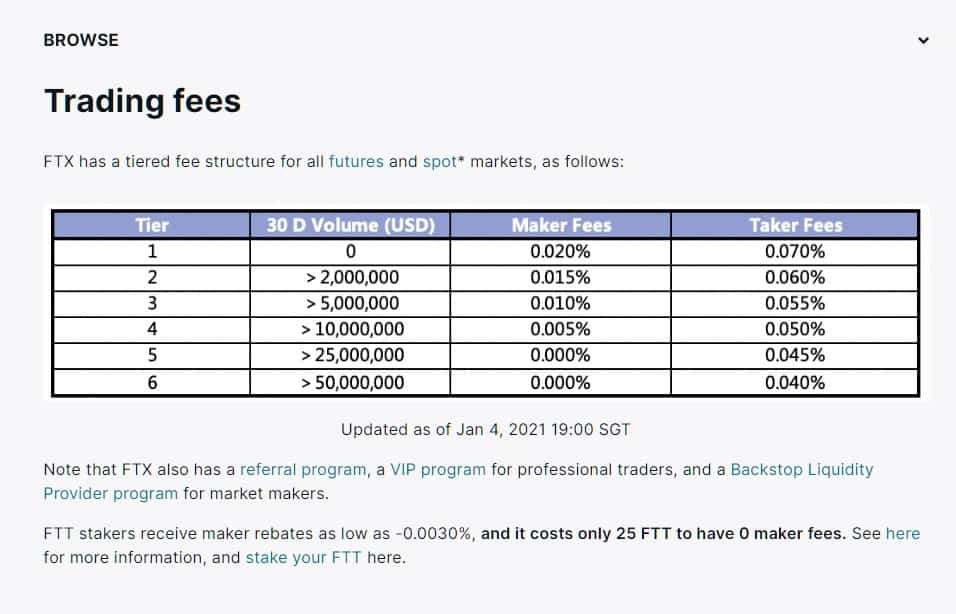 Now, you must be curious about margin fees as borrowing rates are equally notorious everywhere. FTX isn't an expedition, but at least you have entire margin pricing systems explained under Spot Margin Trading.
Finally, remember that leveraged tokens come with creation and redemption fees of 0.10% and an additional 0.03% for daily management.
FTX Deposit and Withdrawal Fees
In general, FTX encourages a no-fee deposit policy. However, depending on the payment provider available in your country, you may be subject to a certain fee. For example, ACH transfers come with the standard fee of $0.50. No worries, though. All payment methods adjusted to Australian residents are free.
AUD fiat withdrawals don't incur any withdrawal fees as well. And, when it comes to transferring crypto out, there is a certain fee only for ERC-20 tokens and BTC.
Payment Methods
I see that FTX creators have learned the lesson from old-school crypto platforms very well. Despite building a highly professional image, the exchange must always leave wide-open fatigates. FTX supports direct deposits in over ten different fiat currencies, including USD, AUD, CAD, EUR, and GBP.
International transfers are usually made through SEPA bank transfers, wire transfers, or credit and debit cards. Australian users can also fund their accounts via PayID for free.
Customer Support
Customer support has always been the weakest link of such globally expanded crypto services in terms of their response rate. The FTX user base is counted in millions, so I didn't even expect to see a direct phone line or a humanized live chat. Still, there are two ways to reach out to the FTX customer support team.
Telegram channel (with multi-language support)
Email ticket system
I must admit that my attempt to contact them took less time than expected. Users' reviews are quite mixed when it comes to processing times.
How to Buy Crypto on FTX?
Before anything else, you need to open an FTX account. The registration itself is quite simple, but you should be prepared for KYC verification. I won't go through the verification process since the requirements don't differ from any other platform that involves money transfers.
My point is that FTX has a tiered KYC structure, and passing the first threshold may not be enough for your planned purchase. That's because the Level 1 Identity Verification doesn't cover fiat deposits and withdrawals. So, after passing the Level 2 KYC, you need to deposit some fiat or other crypto for purchasing the coin on your wishlist.
The fastest way to buy Bitcoin or other supported crypto on FTX is either through the Convert (Quick Coin Swap) option or by placing a Market-Buy order on the spot market.
In both cases, FTX will offer you a custodial crypto wallet to store your newly-acquired coins within the exchange immediately after the purchase.
Alternatives
If you ask me, FTX is refreshingly different — not only from beginner-friendly crypto brokers — but also from all other cryptocurrency trading platforms that target professional audiences. This is how the exchange compares to other Australian crypto stars.
Is Binance Australia Better Than FTX?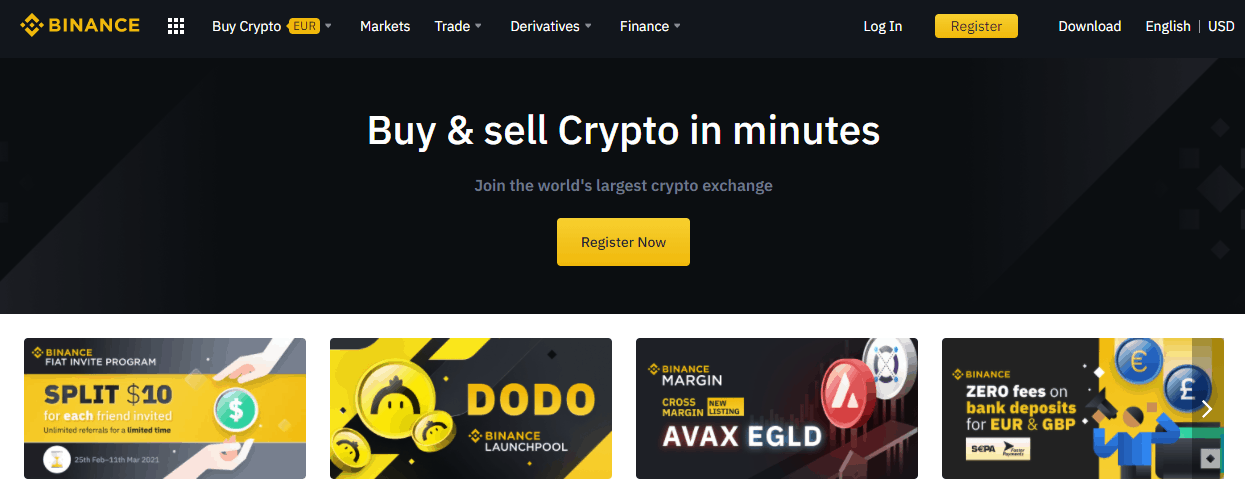 I'll start with the most challenging comparison. Binance Australia is an AUSTRAC-registered affiliate of the global market-cap champion Binance. Since its beginnings in 2017, Binance has been a synonym for a feature-rich platform equipped with an instant market, abundant spot market with over 600 different digital assets, P2P platform, mining pools, derivatives, staking options for over 70 assets, and many more.
In terms of fees and payment options, FTX is more favorable than Binance for Australian traders. The rest of the package depends exclusively on personal trader preferences. I'd definitely go for FTX — it's cleaner, more sophisticated, and better-suited for derivatives traders.
Is Coinbase Better Than FTX?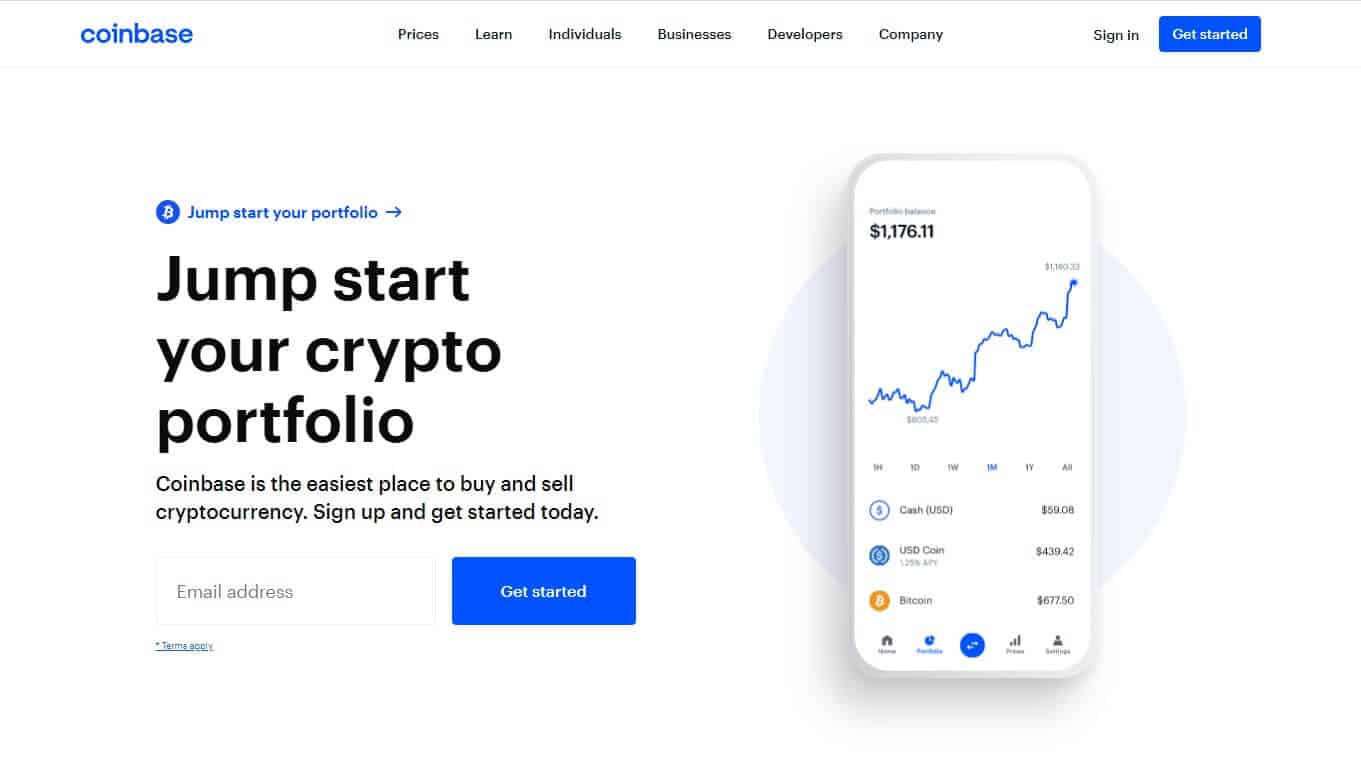 Coinbase and FTX are an example of two opposite approaches in the crypto industry. Coinbase allows you to make instant crypto purchases, avoiding any encounter with the exchange order book.
For that reason, Coinbase is an excellent solution for absolute beginners and one-off investors who don't mind sparing a penny more for quick service. Yes, Coinbase instant services come at 3.99% per transaction.
Is Swyftx Better Than FTX?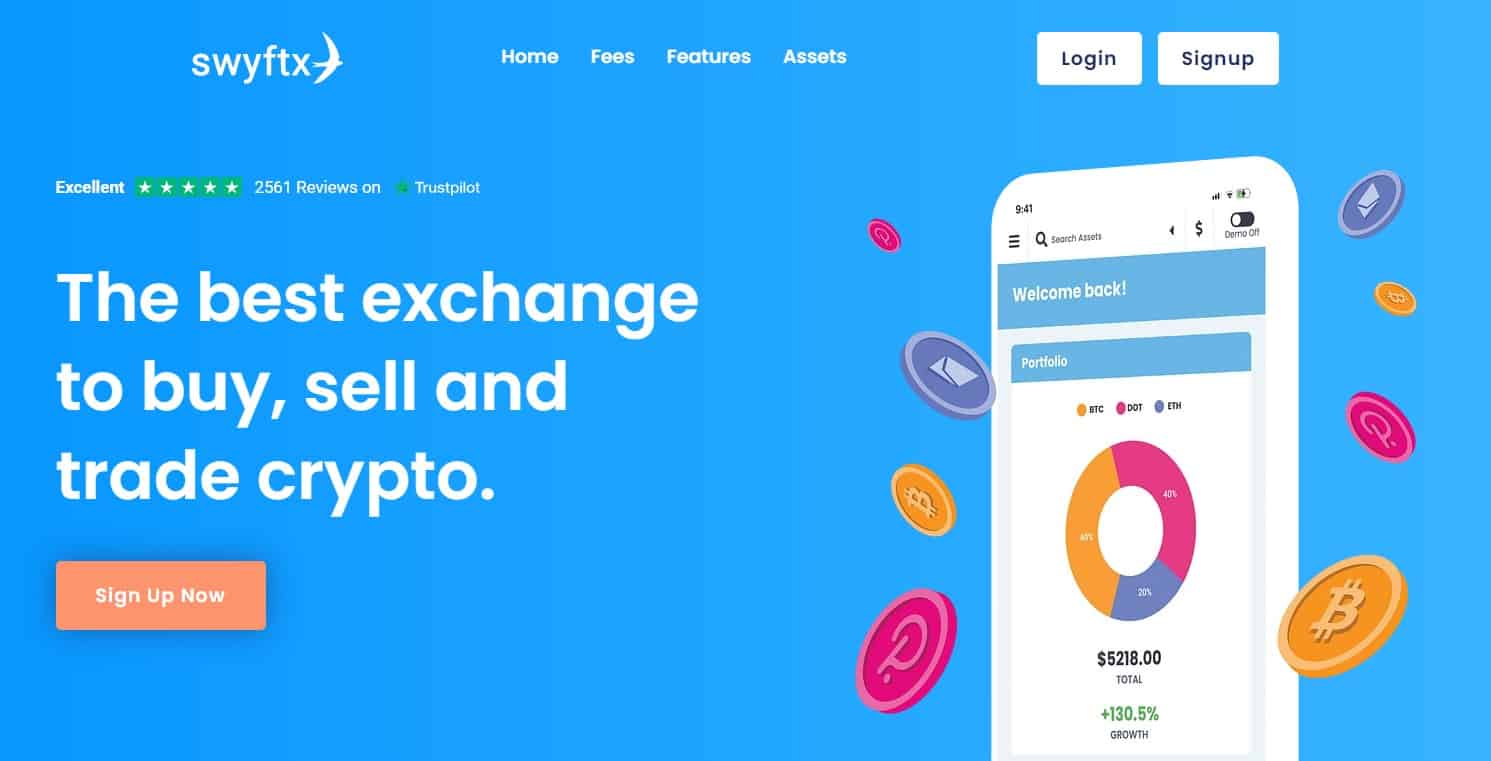 Unless you're strictly heading towards derivatives, Swyftx is always a better idea. The exchange is the best you can get under the Australian crypto skyline — a user-friendly platform suitable for beginner to intermediate traders, with an impressive selection of cryptocurrencies, handy in-exchange functionalities, and competitive fees.
Is CoinJar Better Than FTX?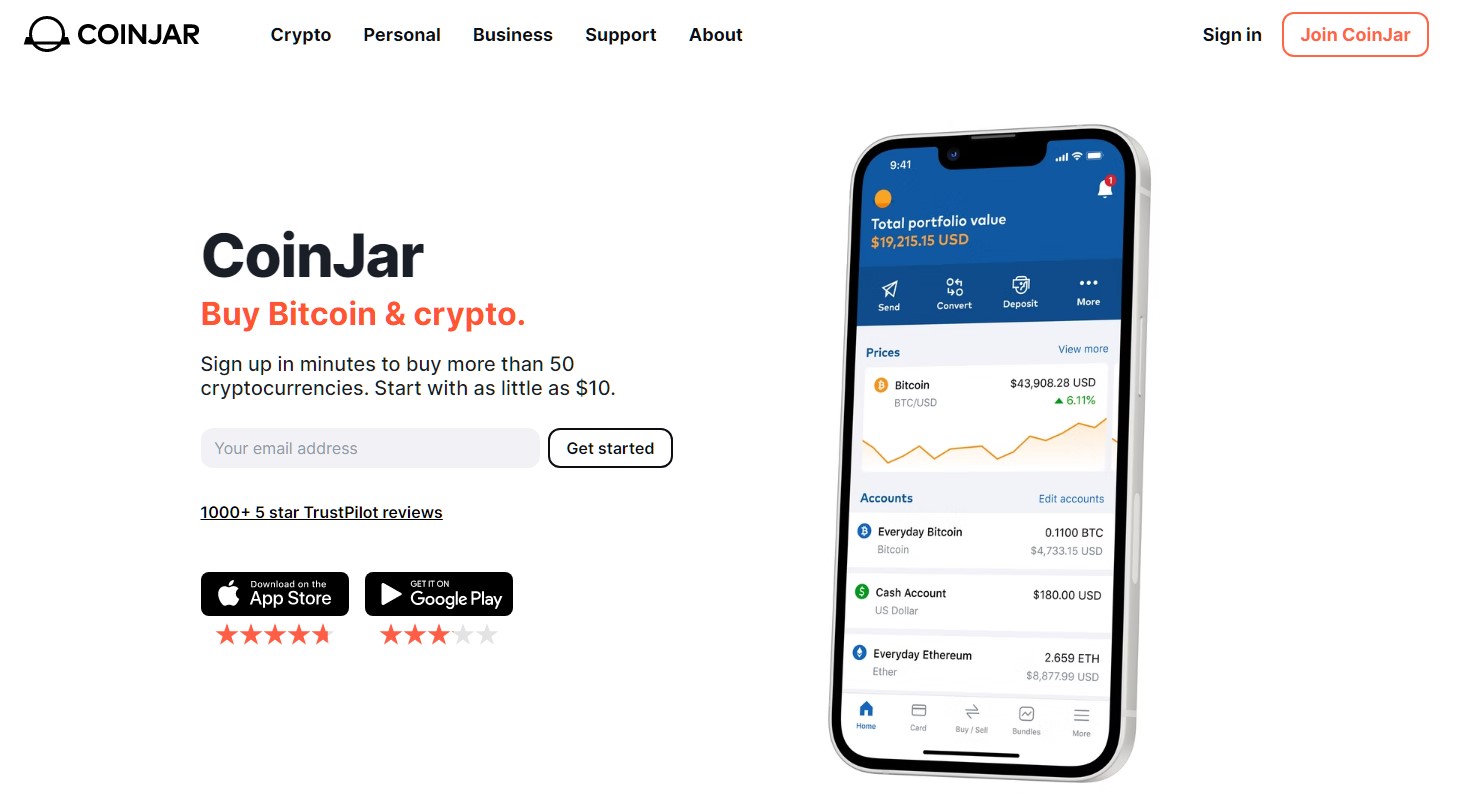 CoinJar also focuses on simplifying the buy-and-sell process rather than delivering an advanced trading platform, so we can't say that these two are direct competitors. The thing is that FTX is the best in its class, while CoinJar has been massively surpassed by most of the new "kids on the block" like Swyftx and Digital Surge.
Frequently Asked Questions
Why is FTX so popular?
FTX is an ambitious project developed with a clear goal to meet the needs of professional crypto traders. Its popularity lies in the incredible selection of derivatives products combined with low trading fees and an ultra-modern and flexible UI design.
How do I withdraw from FTX?
You can activate a fiat withdrawal from the Wallet section. The process is pretty streamlined, with clear on-screen instructions up to the endpoint. Processing times and fees (if any) depend mostly on your bank. Sometimes, it may take up to a week before you get the funds in your bank account. Fortunately, Australian residents can use PayID for instant withdrawals.
Is FTX FDIC insured?
No, there isn't an option for insuring your funds on FTX.
Is FTX safe?
The exchange has a serious approach to user protection — it employs industry-level measures, including two-factor authentication and other security features, to establish trustworthy grounds for trading crypto. There have been no records for hacks or other forms of identity scams in these few years of existence.
Is FTX lending safe?
Virtual vendors always come with a certain risk but I can say that margin lending is less risky than trading itself. On FTX, borrowers need to provide 100% collateral for their margin loan, so if they fail to repay, their collateral is used to settle their debts.
Is FTX regulated?
The original FTX Trading Ltd company behind the exchange is incorporated in Antigua and Barbuda. It has a subsidiary that operates under the business name FTX Digital Markets Ltd, which is regulated by the Securities Commission of the Bahamas as a Digital Assets and Registered Exchange. FTX has registered subsidiaries in almost all territories of operations, such as Australia, Switzerland, Japan, Singapore, etc.
Who owns FTX?
Sam Bankman-Fried is a co-founder and CEO of the FTX exchange and all its affiliates across the world. His wealth is estimated to be $24 billion.
Conclusion
FTX has been my best crypto discovery in the past few years. I don't believe that you'll find another marketplace with such a uniquely rich set of trading opportunities under a single roof. Certainly, I won't recommend using FTX as a departure point to the crypto world as there are different types of exchanges designed to meet beginners' needs.
Disclaimer: Digital currencies and cryptocurrencies are volatile and can involve a lot of risk. Their prices and performance is very unpredictable and past performance is no guarantee of future performance. Consult a financial advisor or obtain your own advice independent of this site before relying and acting on the information provided.