Summary: To buy USD Coin, all you need is a reliable and trusted crypto trading platform that has USD Coin in its list of cryptocurrencies.
We recommend using Bitbuy as it's a very well-known Canadian crypto exchange (over 400,000 Canadians served) with great support and a very user-friendly platform.
And for a limited time only, you can get FREE $40 when you sign up and fund your Bitbuy account with $250+!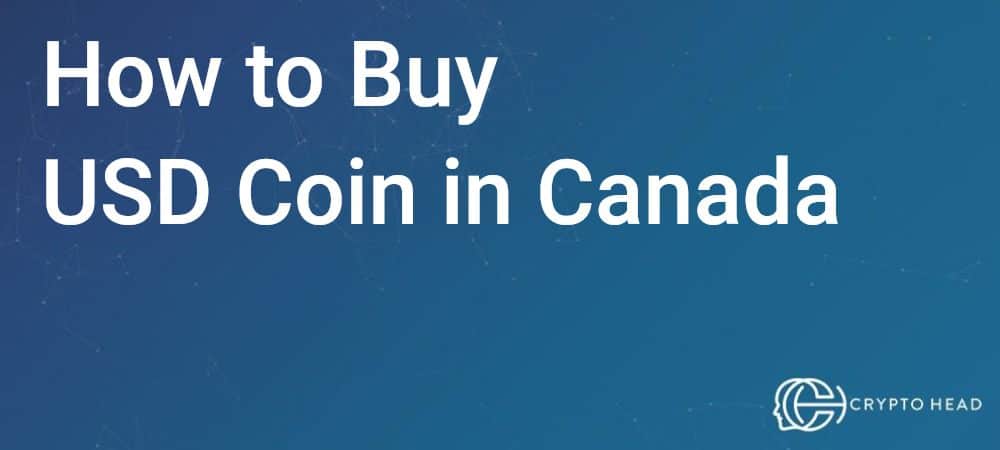 Finding a Canadian cryptocurrency exchange where you can buy USD Coin is pretty straightforward these days, there are so many exchanges around.
As mentioned above, we personally really like Bitbuy, but you can use any exchange you want of course. The general process is very similar across most cryptocurrency trading platforms.
How to Buy USD Coin in Canada in 2022
1. Choose a cryptocurrency exchange
While there are a lot of crypto trading platforms, it can get a bit tricky comparing them all as they all offer very similar features. The differentiating factors are mainly fees, the amount of digital assets to choose from, and any special features that the other exchanges don't have.
The reason we recommend going with Bitbuy is that they're very easy to use, have fantastic support, and have a quick and seamless verification process to get you started!
Let's get into it!


It's also possible to take a look at our analysis of the cryptocurrency brokers in Canada If you're curious to know more about which exchanges we prefer.
2. Create an account on the exchange
The first thing to do is to create an account on the exchange and go through the required verification processes.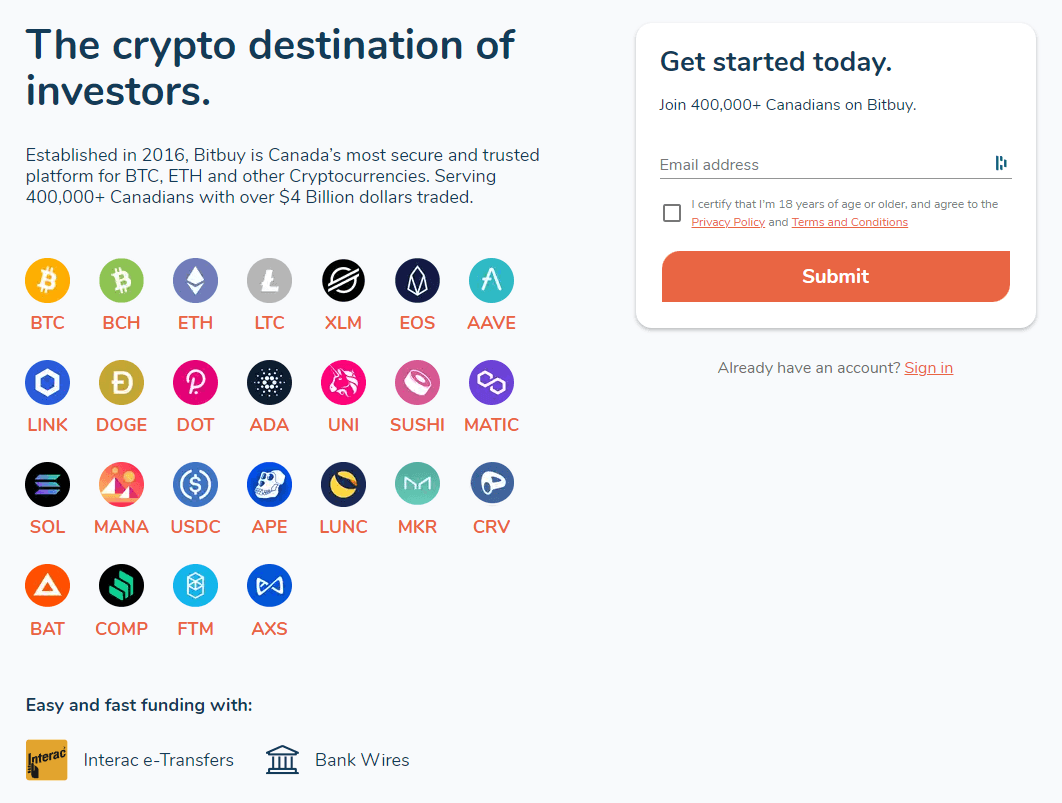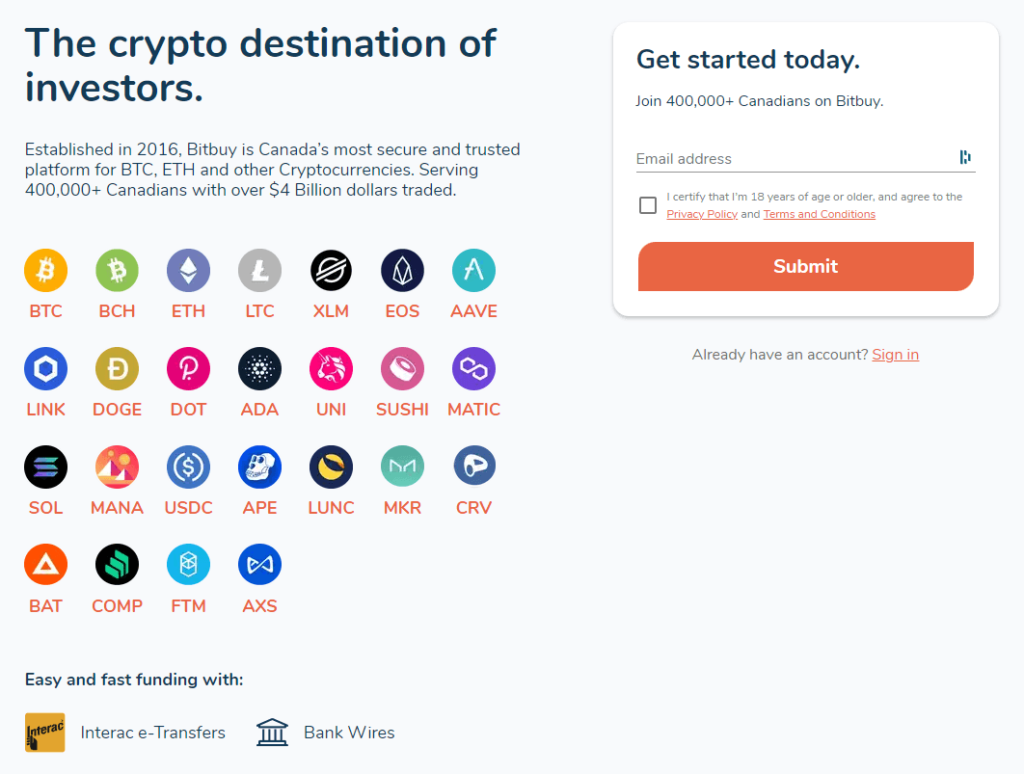 Bitbuy requires you to verify your identity in order to adhere to Canadian cryptocurrency laws. There is an automated verification system that will check your information against a database.
3. Transfer funds into the account
Transferring funds is also pretty easy as Bitbuy supports Interac eTransfer and Bank Wire.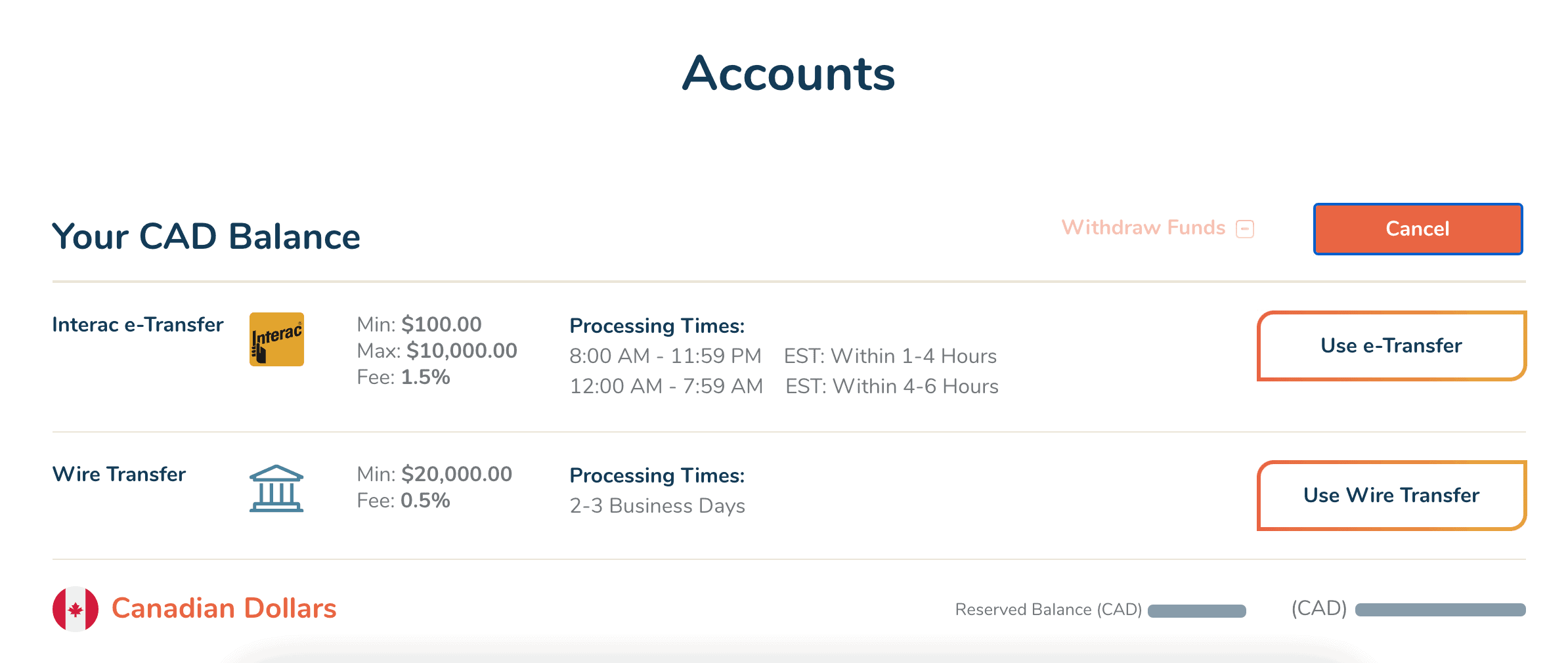 4. Buy USD Coin
Once the funds are in the account, you can either use the basic or pro trading interfacing to find and buy USD Coin.
And that's it, you now have some USDC, congratulations!
Where to Buy USD Coin in Canada
Aside from Bitbuy, 3 other experienced crypto exchanges we would recommend are NDAX, Coinberry, and Newton. They all have their own feature-set and fee structures.
How to Sell USD Coin in Canada
Selling USD Coin is just as easy as buying it. Start off buying signing into the cryptocurrency exchange where you bought USD Coin.
Then simply head over to the trading section of the exchange, or find USD Coin in your account, click on it and it should bring you to the trading screen.
Finally, choose the amount you want to trade for either CAD or another cryptocurrency and hit sell.
Frequently Asked Questions
Can I buy USD Coin with PayPal?
While the majority of crypto exchanges in Canada don't support PayPal, there are a few, like eToro, that do allow for buying cryptocurrency with PayPal.
That being said, double-check their list of cryptocurrencies first to make sure they have USD Coin.
How to buy USD Coin with a credit card?
You can use Bitbuy to buy USD Coin with your credit card. A lot of Canadian crypto exchanges do support credit and debit cards.
Is buying USD Coin in Canada legal?
Buying and selling cryptocurrencies is legal in Canada, just make sure to only use crypto trading platforms that are registered with FINTRAC.
More info about USD Coin
USD Coin, also known as its ticker USDC is a stablecoin. It is pegged at 1:3 to the U.S. dollar. One unit of this cryptocurrency can be supported by $1. This is a mix of U.S Treasury Bonds and cash. The Centre consortium backs this asset. USDC can only be issued by financial institutions that are regulated.
The stablecoin was first launched in limited quantities in September 2018. USD Coin's motto simply reads "digital currency to the digital age". Stablecoin was designed for a world where cashless transactions are more common.
There are many uses for the USD Coin. Stablecoin is believed to be a safe haven for crypto traders in volatile times. Businesses can use it to accept digital assets for payments. This will enable them to shake up many sectors, including gaming or decentralized finance.
Our goal is to make USDC widely accepted by all wallets and exchanges.
The stablecoin market has become very crowded in recent years. USD Coin has tried to be an exception in many aspects.
Transparency is the number one. One is transparency. Users should be able to withdraw $1 USDC and receive $1 back. The agreement states that large accounting firms will be responsible to verify cash reserves and ensure they match tokens in circulation.
Circle and Coinbase have been able to achieve regulatory compliance. This is an advantage over other crypto ventures. This has allowed international expansion. These projects are well-funded which provides stablecoin security.
Coinbase briefly considered diversifying USDC funds but ended up pulling that suggestion due to strong community opposition. USDC's success is due to transparency about the origins and source of its funds. USDC has not been accused, unlike USDT. USDT has been subject to numerous investigations. This led to USDC acquiring large shares of USDT's market dominance on stablecoin markets. USDT held a 74%- 16% market share lead by February 2021, but this has slowed down to a 45%-30% lead in February 2022.
Disclaimer: Trading, investing, and dealing with digital and cryptocurrencies might involve a lot of risks. Their prices are volatile and performance is unpredictable. Their past performance is no guarantee of future performance.
Affiliate Disclosure: This site is supported by its users. We may receive commissions for purchases made through the links on our site. This does not impact our reviews, guides or comparisons.
Related Posts: