How To Short Dogecoin (DOGE)
Summary: Shorting Dogecoin is pretty straightforward, all you need is a crypto trading platform that allows for short selling. While there are a few exchanges out there that have added the ability to short crypto, our recommendation is to use eToro. They're well-known, have a global presence, and are trusted by millions of users from 100+ countries.
We'll be using eToro in our guide, you can sign up with one of the sign-up buttons below.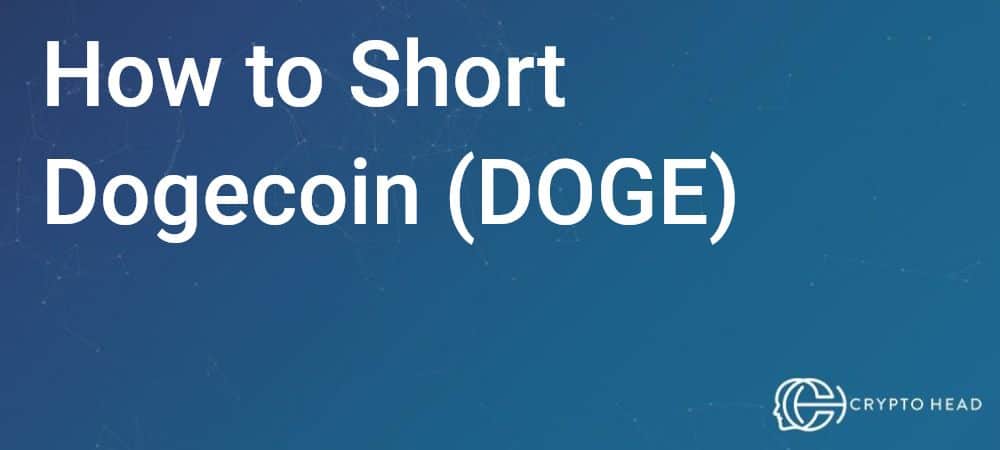 Before we get started, let's quickly explain what shorting is (for those that are new to it). Shorting is the practice of selling a cryptocurrency hoping it will drop in price so you can buy it back later for cheaper… which, if successful, will give you a net profit.
It might sound a bit complex but don't worry, it's a lot easier than you might think.
How to Short Dogecoin
Shorting Dogecoin can be done in 4 steps:
1. Find a crypto trading platform
As mentioned before, for this guide we'll be using eToro as they offer the ability to short the most common cryptocurrencies.
You can, of course, use any other crypto broker that allows for short selling.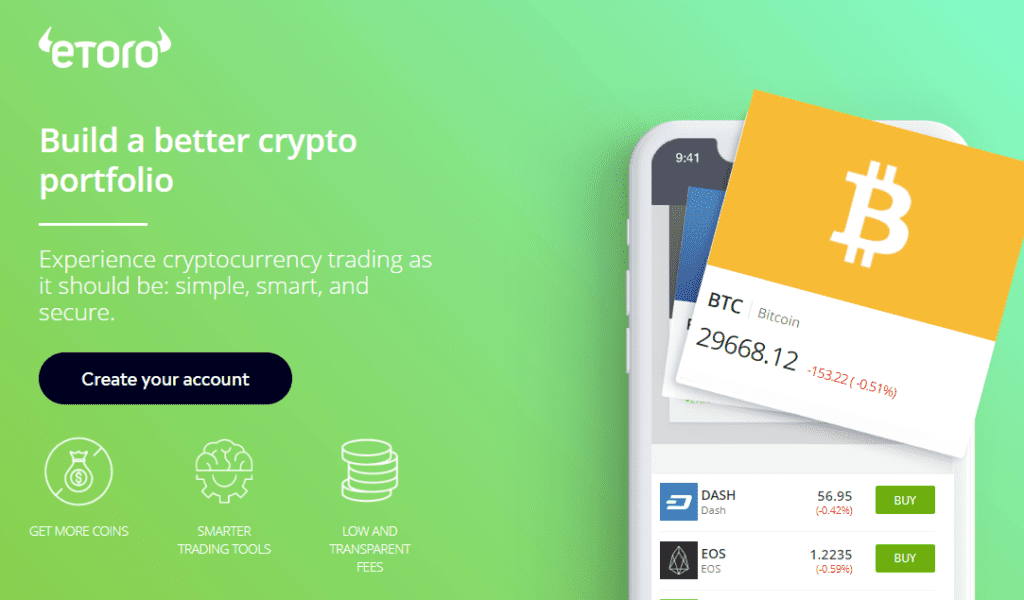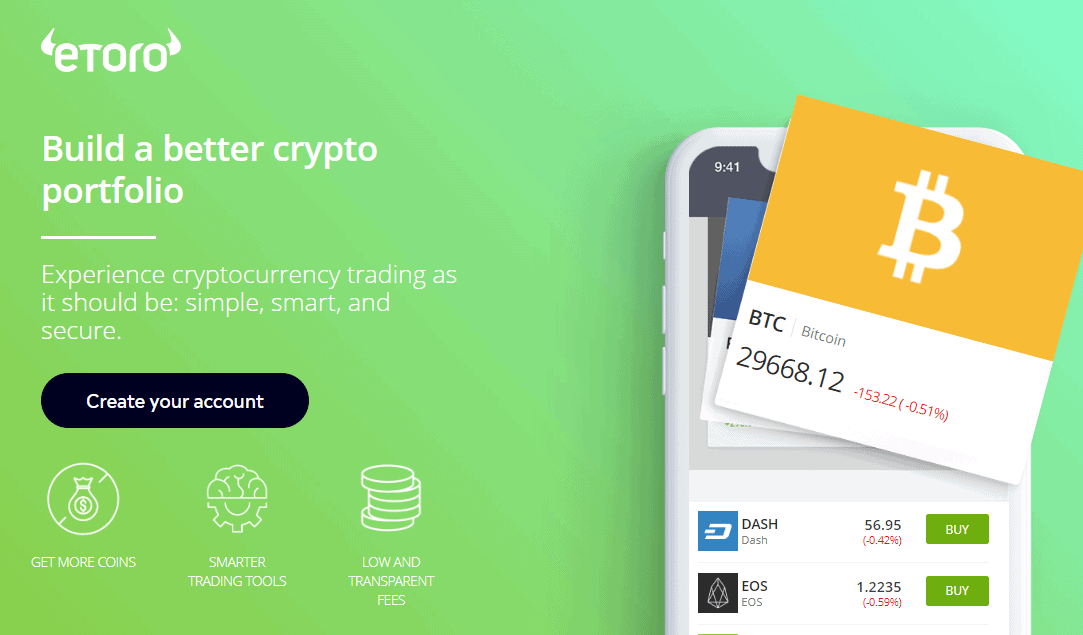 2. Sign up with the cryptocurrency exchange
Let's start with creating an account on eToro.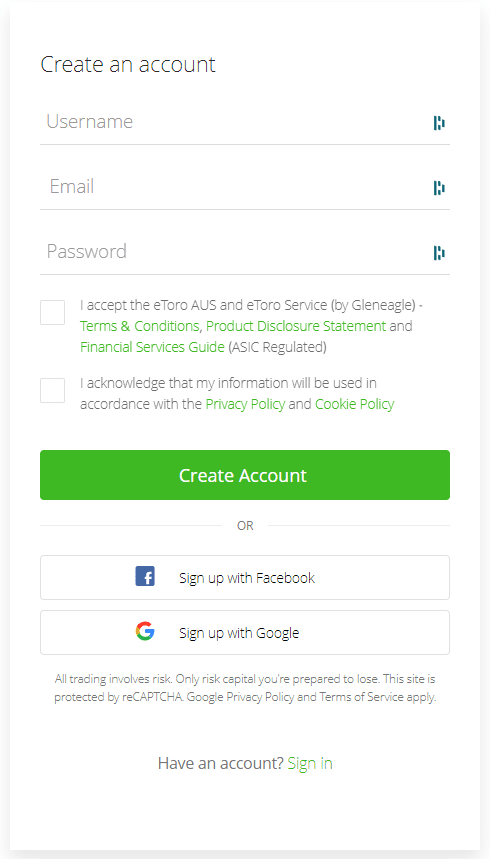 The sign-up process is very quick, as is the verification that needs to be completed afterwards so you can get started.
3. Funding your eToro account
Next is funding your account. You have several deposit methods to choose from when depositing funds into your eToro Account. These include a bank transfer, credit card, debit card, PayPal, and more.
4. Short Dogecoin
These are the steps to follow to execute a short sell:
Go to the search bar at the top, find Dogecoin by entering the name.
On the crypto page/section, on the right side, hit the TRADE button to enter the trading interface.
At the top of the trading interface: Click on sell to short the crypto.
Enter the amount for which you want to sell Dogecoin and click on "Open Trade".
Once you're ready to close the trade, hopefully when the value of Dogecoin has dropped, go to your Portfolio, find the Dogecoin trade, and click on the red cross to close the trade.
If your assumption/prediction was right, then the profit will be added to your account after closing the trade. If you were wrong on the other hand, you'll incur a loss which will be debited from your eToro account.
Congratulations, now you know how to short Dogecoin!
Disclaimer: Trading, investing, and dealing with digital and cryptocurrencies might involve a lot of risks. Their prices are volatile and performance is unpredictable. Their past performance is no guarantee of future performance.
Affiliate Disclosure: This site is supported by its users. We may receive commissions for purchases made through the links on our site. This does not impact our reviews, guides or comparisons.
Where to Short Dogecoin (DOGE)
Aside from eToro, the other major exchange you can use is Binance.
While Binance tends to be a bit more advanced when compared with eToro, they do have a lot more digital assets to trade with.
Frequently Asked Questions
Can I short Dogecoin on Binance?
Yes, you can short Dogecoin on Binance. They have over 300 cryptocurrencies on offer, have a decent phone app and a lot of advanced trading features.
About Dogecoin
Dogecoin is an cryptocurrency. It was founded December 6, 2013, and is based off the Internet meme "Doge". The logo of Dogecoin features a Shiba Inu.
The codebase for the project was a fork Litecoin. Many of the same features such as hash hashing algorithm were inherited. However, the only difference between the branding and the large inflationary supply was the codebase.
Dogecoin, which was originally introduced as a joke cryptocurrency, quickly developed an online community and reached a capitalization level of US$60 millions in January 2014. Dogecoin produced 100 billion coins by mid-2015. The coin was then in circulation for another 5.256 billion every year. This is a significant advantage over other cryptocurrency coins. On 30 June 2015, the 100th Dogecoin was already mined.
Dogecoin is a cryptocurrency created by Jackson Palmer from Sydney, Australia and Billy Markus from Portland Oregon. Both were looking to create a fun cryptocurrency which would appeal to more people than just the Bitcoin community. Dogecoin's primary purpose is to tip other users on Reddit (and Twitter) for creating and sharing good content. This community is very active in fundraising activities to support worthy causes.
Dogecoin has not seen major improvements to its coin since 2015. Dogecoin might be forgotten, which is why Shibas decided to leave Dogecoin and join Ethereum. Dogecoin is known for its friendly and open-minded community. This is also a problem because other currencies are far more professional.
Today in 2022, Dogecoin's popularity has exploded and they have gained the mainstream attention. It has been made a meme by Elon Musk, a billionaire Tesla entrepreneur, who also created meme coins to add to the market.
Dogecoin supporters have been asking for an answer to their question about whether Dogecoin would ever reach $1,000. Although it is impossible to predict where the price action will be, high volatility appears to be the mainstay. The utility of the cryptocurrency as a meme coin remains unclear.
Related: