How To Short Ethereum (ETH)
Summary: Shorting Ethereum is pretty straightforward, all you need is a crypto exchange that allows for short selling. While there are a few exchanges out there that have added the ability to short crypto, our recommendation is to use eToro. They're well-known, have a global presence, and are trusted by millions of users from 100+ countries.
We'll be using eToro in our guide, you can sign up with one of the sign-up buttons below.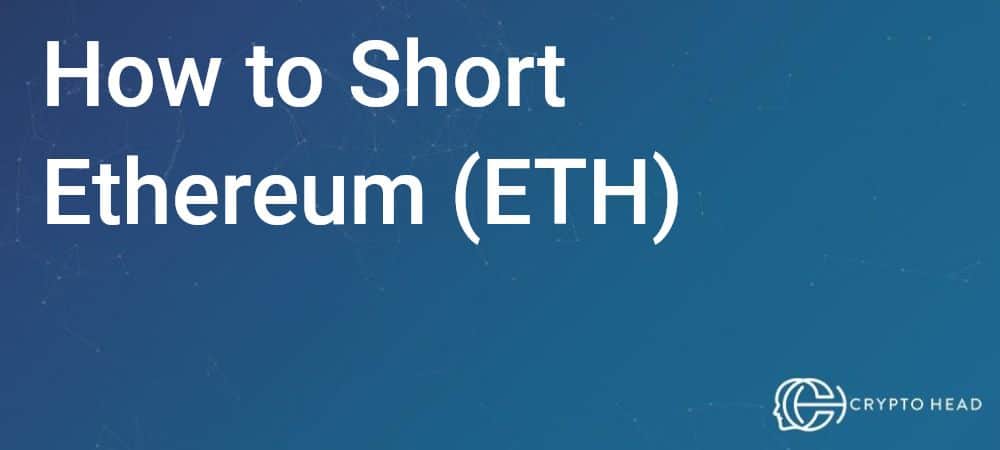 Before we get started, let's quickly explain what shorting is (for those that are new to it). Shorting is the practice of selling a cryptocurrency hoping it will drop in price so you can buy it back later for cheaper… which, if successful, will give you a net profit.
It might sound a bit complex but don't worry, it's a lot easier than you might think.
How to Short Ethereum
Shorting Ethereum can be done in 4 steps:
1. Find a cryptocurrency exchange
As mentioned before, for this guide we'll be using eToro as they offer the ability to short the most common cryptocurrencies.
You can, of course, use any other crypto trading platform that allows for short selling.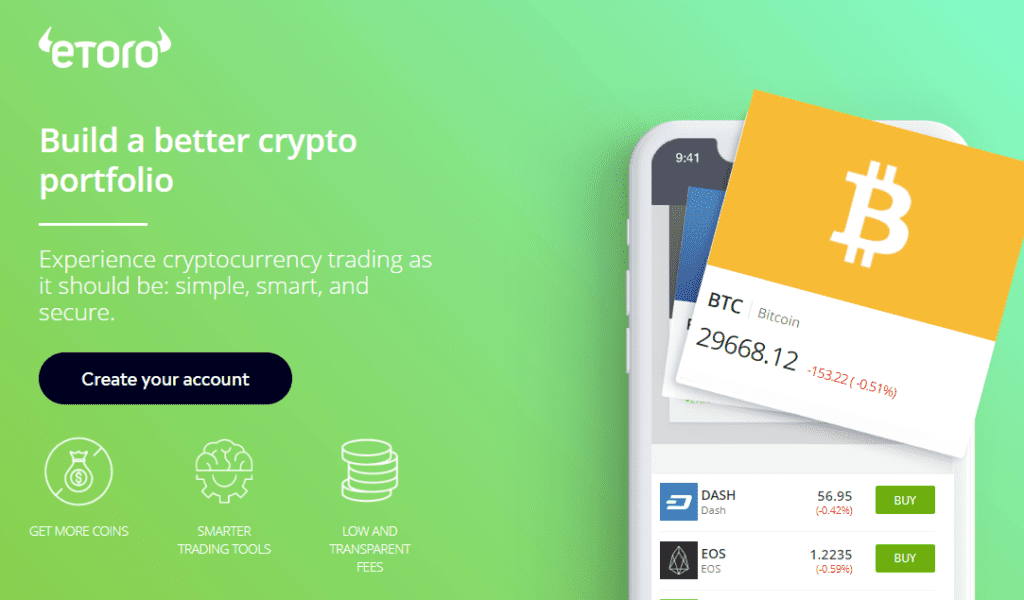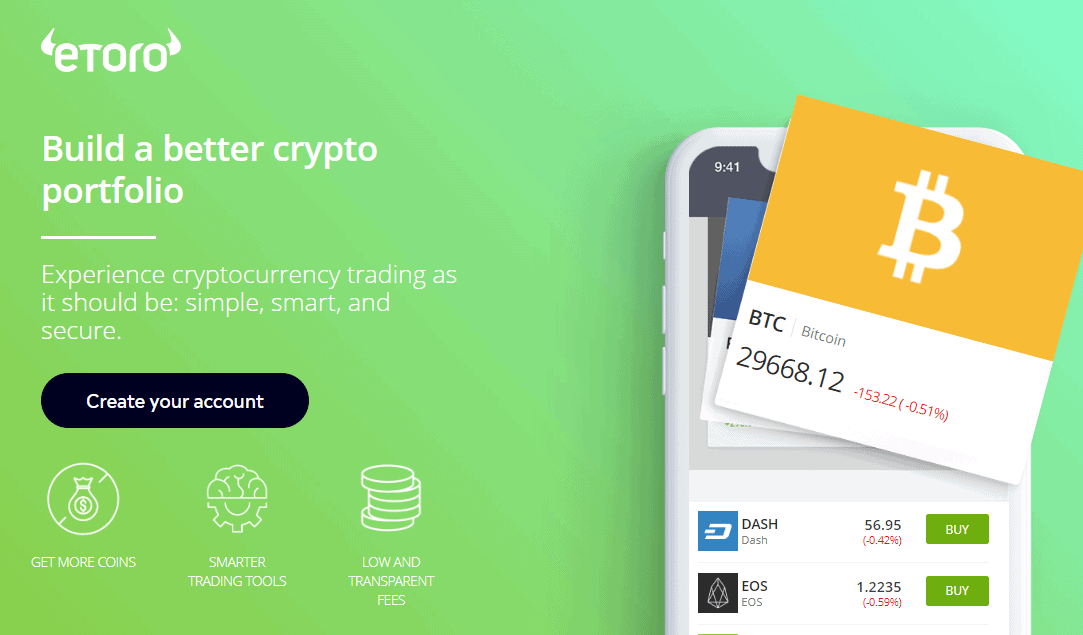 2. Sign up with the cryptocurrency trading platform
Let's start with creating an account on eToro.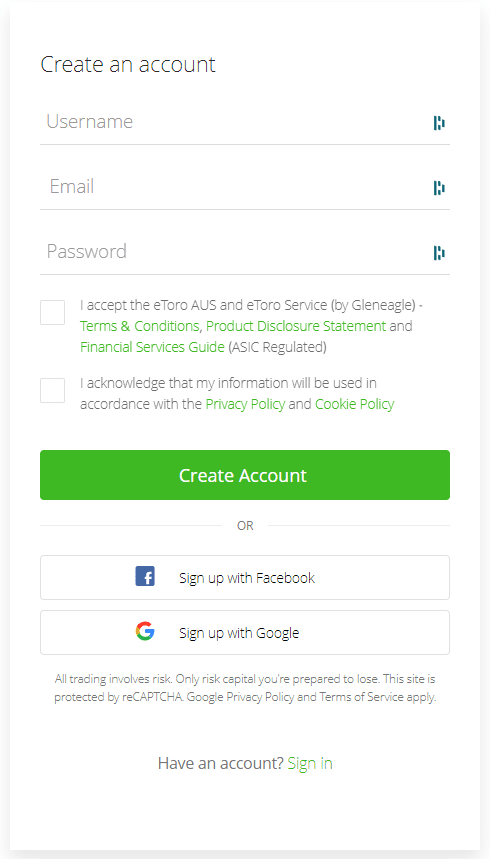 The sign-up process is very quick and easy, as is the verification that needs to be completed afterwards so you can get started.
3. Funding your account
Next is funding your account. You have several deposit methods to choose from when depositing funds into your eToro Account. These include a bank transfer, credit card, debit card, PayPal, and more.
4. Short Ethereum
These are the steps to follow to execute a short sell:
Go to the search bar at the top, find Ethereum by entering the name.
On the crypto page/section, on the right side, hit the TRADE button to enter the trading interface.
At the top of the trading interface: Click on sell to short the crypto.
Enter the amount for which you want to sell Ethereum and click on "Open Trade".
Once you're ready to close the trade, hopefully when the value of Ethereum has dropped, go to your Portfolio, find the Ethereum trade, and click on the red cross to close the trade.
If your assumption/prediction was right, then the profit will be added to your account after closing the trade. If you were wrong on the other hand, you'll incur a loss which will be debited from your eToro account.
Congratulations, now you know how to short Ethereum!
Disclaimer: Trading, investing, and dealing with digital and cryptocurrencies might involve a lot of risks. Their prices are volatile and performance is unpredictable. Their past performance is no guarantee of future performance.
Affiliate Disclosure: This site is supported by its users. We may receive commissions for purchases made through the links on our site. This does not impact our reviews, guides or comparisons.
Where to Short Ethereum (ETH)
Aside from eToro, the other major exchange you can use is Binance.
While Binance tends to be a bit more advanced when compared with eToro, they do have a lot more digital assets to trade with.
Frequently Asked Questions
Can I short Ethereum on Binance?
Yes, you can short Ethereum on Binance. They have over 300 cryptocurrencies on offer, have a decent phone app and a lot of advanced trading features.
About Ethereum
Ethereum is a decentralized platform open-source for global applications. The vision is to create the world's first decentralized computer, where everyone can develop applications. All data and states will be available for public access. Ethereum supports smart agreements, in which developers are able to write code to create digital value. There are many decentralized apps that can be built using Ethereum. These include tokens, non-fungible tokens as well as decentralized finance apps and lending protocols.
It is unlike Bitcoin, in which Satoshi Nagamoto, the creator, is unknown. Vitalik Buterin (along with Mihai Alisie, Charles Hoskinson), Amir Chetrit and Joseph Lubin, Gavin Wood and Jeffrey Wilke) are the members of Ethereum's founding team. The Ethereum Foundation is not the only place where the founders are involved. Others have left to pursue other projects. Charles Hoskinson moved on to Cardano and Gavin Wood moved on to Polkadot.
Ethereum refers only to the blockchain network. Ether (ETH), is the Ethereum economy's native currency. Ether, which is the base currency in the Ethereum economy, is often used to pay transaction fees known as Gas.
All transactions and smart contract executions on Ethereum require that a small fee be paid. Gas is the fee. Gas is the unit for measuring the computational effort required in order to execute an operation. The more complex an execution operation is, then the more gas it takes to perform that operation. Gas fees can only be paid in ETH.
The demand for gas may cause the price to fluctuate. Due to limited computing resources, the price of gas can rise if there is more interaction on Ethereum blockchain. If the network is used less, the market price would drop for gas. There are many other options such as Argent or Trust Wallet as well as Coinbase Wallet.
Ethereum 2.0 is an upgrade. It aims at solving the blockchain trilemma, security, scalingability, and centralization. These smart contracts are not as scalable as other platforms and they do not compromise on decentralization. However, a highly secure and decentralized network of blockchains would make it difficult to scale. Ethereum 2.0 offers a different design. This version addresses these issues using Proof-of-Stake and Beacon Chain, Sharding, Execution Environment, Sharding. The development of the project will take place in three phases due to its complexity. A Proof-of Stake Beacon Chain was deployed, and users are staking ETH in confidence for the upcoming network. For the remainder of the phases, research is still ongoing.
Related: