How To Short Litecoin (LTC)
Summary: Shorting Litecoin is pretty straightforward, all you need is a cryptocurrency exchange that allows for short selling. While there are a few exchanges out there that have added the ability to short crypto, our recommendation is to use eToro. They're well-known, have a global presence, and are trusted by millions of users from 100+ countries.
We'll be using eToro in our guide, you can sign up with one of the sign-up buttons below.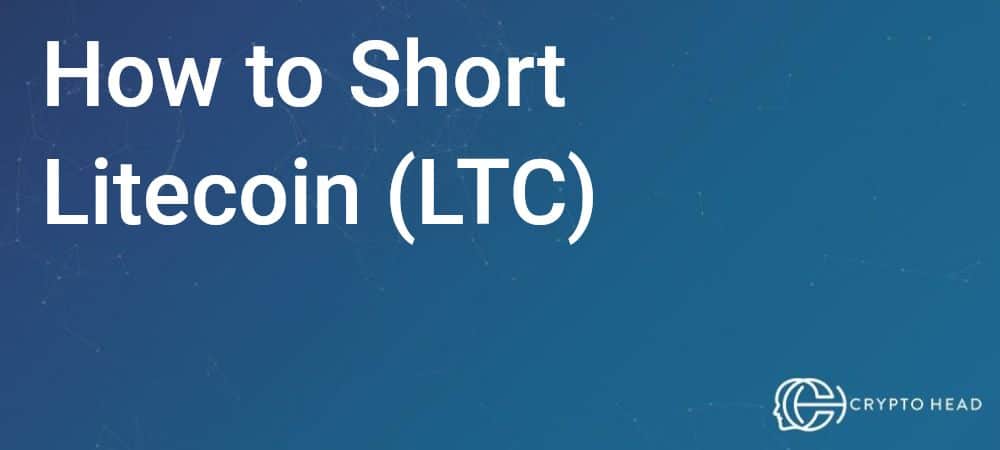 Before we get started, let's quickly explain what shorting is (for those that are new to it). Shorting is the practice of selling a cryptocurrency hoping it will drop in price so you can buy it back later for cheaper… which, if successful, will give you a net profit.
It might sound a bit complex but don't worry, it's a lot easier than you might think.
How to Short Litecoin
Shorting Litecoin can be done in 4 steps:
1. Find a crypto exchange
As mentioned before, for this guide we'll be using eToro as they offer the ability to short the most common cryptocurrencies.
You can, of course, use any other cryptocurrency trading platform that allows for short selling.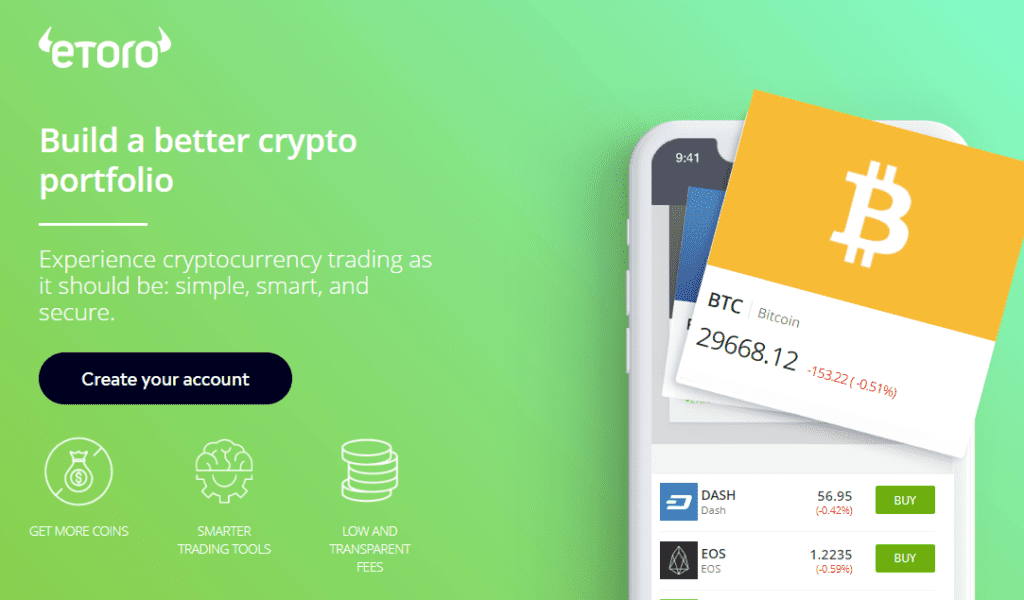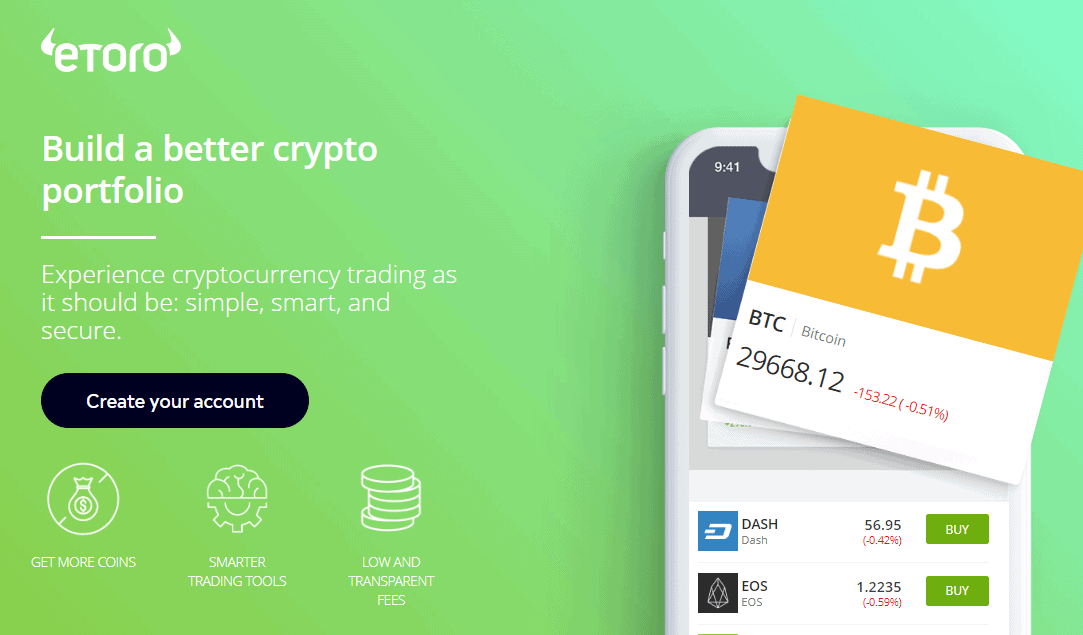 2. Sign up with the cryptocurrency exchange
Let's start with creating an account on eToro.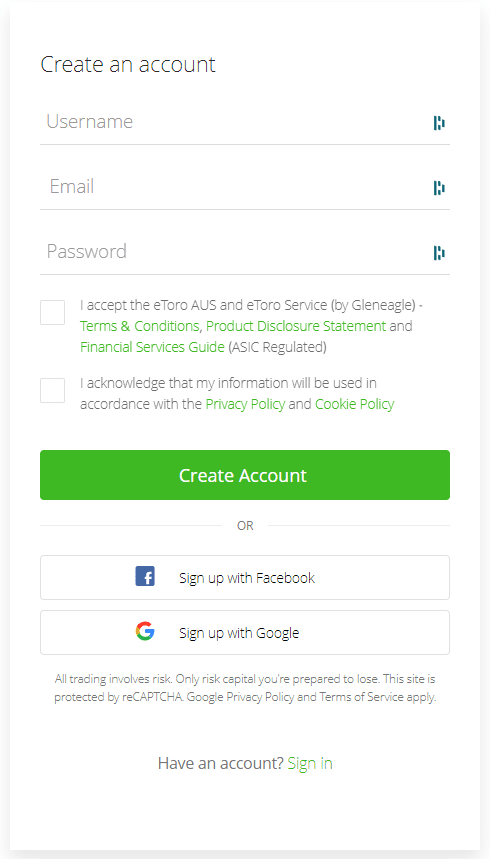 The sign-up process is very easy, as is the verification that needs to be completed afterwards so you can get started.
3. Funding your account
Next is funding your account. You have several deposit methods to choose from when depositing funds into your eToro Account. These include a bank transfer, credit card, debit card, PayPal, and more.
4. Short Litecoin
These are the steps to follow to execute a short sell:
Go to the search bar at the top, find Litecoin by entering the name.
On the crypto page/section, on the right side, hit the TRADE button to enter the trading interface.
At the top of the trading interface: Click on sell to short the crypto.
Enter the amount for which you want to sell Litecoin and click on "Open Trade".
Once you're ready to close the trade, hopefully when the value of Litecoin has dropped, go to your Portfolio, find the Litecoin trade, and click on the red cross to close the trade.
If your assumption/prediction was right, then the profit will be added to your account after closing the trade. If you were wrong on the other hand, you'll incur a loss which will be debited from your eToro account.
Congratulations, now you know how to short Litecoin!
Disclaimer: Trading, investing, and dealing with digital and cryptocurrencies might involve a lot of risks. Their prices are volatile and performance is unpredictable. Their past performance is no guarantee of future performance.
Affiliate Disclosure: This site is supported by its users. We may receive commissions for purchases made through the links on our site. This does not impact our reviews, guides or comparisons.
Where to Short Litecoin (LTC)
Aside from eToro, the other major exchange you can use is Binance.
While Binance tends to be a bit more advanced when compared with eToro, they do have a lot more digital assets to trade with.
Frequently Asked Questions
Can I short Litecoin on Binance?
Yes, you can short Litecoin on Binance. They have over 300 cryptocurrencies on offer, have a decent phone app and a lot of advanced trading features.
About Litecoin
Charlie Lee invented Litecoin which is a peer-2-peer cryptocurrency. It is a peer-to-peer cryptocurrency that Charlie Lee created. However, it differs from the Bitcoin protocol in the hashing algorithm. Litecoin uses a memory heavy Scrypt proof of work mining algorithm. Scrypt allows consumers to use consumer-grade hardware such a GPU to mine these coins.
Investopedia states that Litecoin was developed from Bitcoin. The cryptocurrency is a derivative of Bitcoin. Investopedia claims that this alternative, or altcoin', has been created to help investors diversify their digital currencies portfolio. Charlie Lee (ex-Google employee, Director of Engineering at Coinbase) created Litecoin. It is one of the most popular altcoins. Litecoin was first to alter Bitcoin. Most notable is the fact that it takes Litecoin 2.5 minutes to generate a block (or transaction) in comparison to Bitcoin's 10.
Litecoin can't be used by miners using hardware to run Bitcoin's networks. Because of this, larger mining conglomerates are unable optimize their profits by swapping for another coin, Litecoin is more decentralized. Investopedia explained that Litecoin also has larger blocks and more coins, which makes it cheaper and quicker to transact.
Litecoin transacts much faster than Bitcoin. But there are many other characteristics that investors must be aware before trading. Because Litecoin has the ability to transact more quickly, transactions can be handled at higher volumes than Bitcoin. A code update would also be required if Bitcoin attempts to transact on the same scale. Litecoin blocks would be bigger, but there would be more 'orphaned blocs'. The block time is shorter for litecoin, which decreases the chance of double-spend attacks. However this is theoretical if both networks have equal hashing power.
Litecoin transactions take about 2.5 minutes per confirmation, compared to Bitcoin's 10 minute average. The Litecoin network is expected to reach 84 million currency units.
Many other popular alternatives currencies, such as Litecoin, have been inspired to Litecoin. Dogecoin, due to its Scrypt crypto hashing algorithm which prevents ASIC miners demining those coins. Scrypt ASIC may enter the mass market before the year ends, according to some reports.
Litecoin has been around since 2011. It has not performed well against bitcoin over the last 11 year trading on the market, despite being the gold to bitcoin's silver. This may be due to the increase in newer cryptocurrencies with more utility, including smart contract, DeFi or GameFi, governance, as well as other newer cryptocurrencies. Litecoin, especially as a mature cryptocurrency has a tendency of holding value and experiencing lower volatility than other meme coins.
Market watchers have been analyzing the future price of Litecoin. Based on historical performance, Litecoin closely tracks the overall cryptocurrency markets. Litecoin tends towards increasing as bitcoin prices rise and the overall crypto market cap increases.
Related: