Independent Reserve Review 2022 – Crypto Exchange in Australia
Disclaimer: We may receive a commission for purchases made through the links on our site. However, this does not impact our reviews and comparisons. Learn more about our Affiliate Disclosure.
When it comes to working with cryptocurrency, it's essential to find an Australian crypto exchange that is fast, easy, and secure. Above all, you want to use a service that you can rely on to keep both your data and your money safe.
Independent Reserve has provided dependable cryptocurrency exchange services to clients since 2013 and has become one of the best Australian crypto exchanges around. Their ongoing success as an exchange company is a testament to their steady track record of credible, trustworthy service.

Independent Reserve Exchange
Independent Reserve was founded in the year 2013 in Sydney, Australia. The location of the company is a detail to pay attention to, as Australia is known for having a highly-regulated financial sector that keeps peoples' financial assets safe. The Independent Reserve's mission statement is as follows: "Our mission is to transform cryptocurrency technology into secure, robust and regulated financial services, and do things the right way."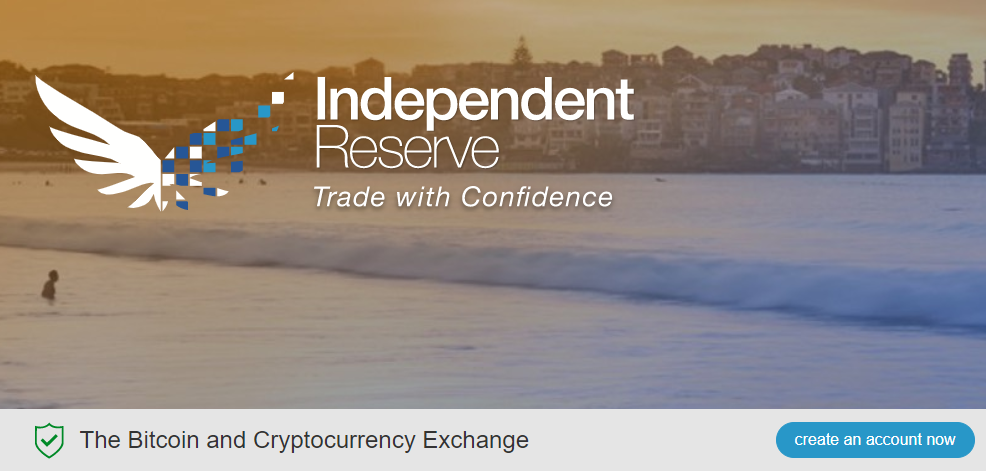 Independent Reserve is the product of a partnership between two specialists in digital platforms and security: Adam Tepper and Adrian Przelozny. Their vision when creating the company was to make an exchange that educated people on what cryptocurrency is, how it works, and how they can understand it and trade it for themselves. Although Tepper passed away only six months after the company's launch, it continued to grow into a massive success. Today, the Independent Reserve is known as Australia's most successful cryptocurrency exchange.
Of course, this exchange's success didn't just happen overnight. Independent Reserve has made plenty of headlines over the past six years, and other players in the cryptocurrency market have taken notice. As the popularity of Bitcoin and other common cryptocurrencies continues to rise to new heights, so, it seems, does the success of Independent Reserve.
For instance, in November 2018 it launched the largest blockchain hub in Sydney. An achievement like this would have never been possible when the company started five years prior. With hard work and a customer-centric business mentality, Independent Reserve has steadily made a name for itself in the exchange industry. The launching of this hub would only serve to carry it further towards their goals of providing high-quality exchange services to its customers.
The perseverance and steadfast goals of the company's owners paid off in July of 2019 when Independent Reserve received the Cryptocurrency Exchange of the Year award at the Australian Blockchain Industry Awards. This award was said by CEO Adrian Przelony to be the result of several advantageous partnerships that have allowed the business to reach new heights as it continues to grow. He's quoted as saying, "I'm extremely proud of what we've achieved so far, and I look forward to progressing this further."
All in all, Independent Reserve has been in the game long enough to prove that they know what they're doing when it comes to crypto trading. The exchange is watched over by an experienced advisory board and is a Gold Certified member of the Australian Digital Commerce Association (ADCA). If you want a trustworthy, experienced exchange service, this one is a great choice.
Bitcoin and Other Supported Cryptocurrencies
Independent Reserve is an exchange that supports several of the most common cryptocurrencies on the market today. Once you understand the basics of exchanging cryptocurrency through Independent Reserve and how the system works, you can join many others in getting the most out of their services. At the time of writing, Independent Reserve allows you to trade the following cryptocurrencies:
BTC (Bitcoin)
XRP (Ripple)
ETH (Ethereum)
EOS (EOS)
BCH (Bitcoin Cash)
LTC (Litecoin)
ETC (Ethereum Classic)
XLM (Stellar Lumens)
BAT (Basic Attention Token)
OMG (OmiseGO)
REP (Augur)
ZRX (0x)
GNT (Golem)
PLA (PlayChip)
If you're new to the world of cryptocurrency and are interested to learn more and find out about how it works, the entire concept can seem a bit intimidating. It's normal to have a lot of questions at first. How can I get Bitcoin of my own in the first place? Is this even safe? What standard global currencies can I use to purchase cryptocurrency?
Fortunately, Independent Reserve does a great job of providing plenty of educational content on their websites for both cryptocurrency newbies and veterans alike. You can learn most of the basics from these resources. You can learn what Bitcoin is, how the exchange works, and how Independent Reserve is regulated to keep your data and your money safe. On that note, how does it all work exactly?
For starters, you'll need to create a secure account with Independent Reserve to be able to exchange. You'll need to provide some personal information, including your first and last name, date of birth, and address. This information allows the company to verify your identity, ensuring that you're a real person who will be a secure member of the exchange community.
Once you're all set up with your account and have verification approval, you'll be able to participate in exchanging currencies. Independent Reserve allows users to buy and sell cryptocurrencies using three different fiat currencies: the US dollar (USD), the Australian dollar (AUD), and the New Zealand dollar (NZD). Their secure platform provides a safe place for trading between currencies. You can participate in this financial system free from any worries that anyone might scam or cheat you out of your money.
If the long list of cryptocurrencies only brings more questions to mind for you, don't worry. Independent Reserve also has plenty of online resources for explaining what they are, how they're used, and how you can obtain them through their platform. Just check out their website, read up a bit, and you'll be exchanging with confidence in no time.
Payment Methods
Independent Reserve allows its users to link their platform account with their bank account and make deposits using a regular bank transfer or debit card. Credit cards aren't supported. You can also pay via PayID, POLi, EFT, Osko, or make SWIFT transfers. PayID and Osko deposits are free for orders over 1,000 AUD.
Trading Fees and Limits
Unfortunately, almost nothing comes free in this world, and that includes trading cryptocurrencies. Exchanges have to make their money somewhere. Since these currencies aren't regulated the same way as those within the standard financial market, fees can be expected. So, what kind of fees should you expect to pay for the various exchange services that Independent Reserve offers?
Let's first look at the exchange services which don't incur any fees when you use Independent Reserve. Cryptocurrency deposits and Australian dollar withdrawals are totally free. If you're based in Australia and primarily use the Australian dollar to purchase cryptocurrency, this is beneficial. The offer isn't a bad deal when you consider that some similar platforms charge a withdrawal fee for any supported currency.
Beyond that, you can also receive a discount on your brokerage fee based on the volume of money that you've traded within the previous 30 days. The amount is based on your order fees in Australian dollars, calculated from when the order is placed, not from when it is fulfilled. Purchasing an Account Plan can also add additional brokerage fee discounts.
Withdrawal Fees
As for international and non-AUD withdrawals, the fee is set at a fixed price of $20. The price for each cryptocurrency withdrawal is relative to the specific currency itself. You can find relevant withdrawal fees for every supported cryptocurrency on Independent Reserve's website. View their fees here.
Customer Support
One of the factors that allowed Independent Reserve to reach such a level of success is its customer-centric business practices. They provide a support screen via their website to assist with any problem or questions that you may have. This support channel is secure, thereby protecting any sensitive user data that might be relayed throughout the support process.
They also have a separate form for users who have trouble logging in. Since this is one of the most common user issues, it's great to have a fast-track support option dedicated to it. For any other questions, they also have a company support email as an alternative point of contact.
Trading Features
Independent Reserve has a couple of unique trading features including the KPMG Tax Estimator and its own OTC-desk. Tax Estimator is a useful tool that allows users to track their tax obligations. The OTC-desk, on the other hand, is aimed at users with high trading volumes who need platforms with high liquidity to make their orders.
Additional features on Independent Reserve include real-time market data, order books, and the option to create an SMSF (Self-Managed Super Fund) account too.
Is Independent Reserve Safe to Use?
The short and sweet answer to this question: yes, Independent Reserve is safe to use. They have several different security features in place to guarantee that any trading you do will be secure and problem-free. These security measures not only help ensure the safety of your financials; they also safeguard your data from possible attackers.
For instance, any outage to the server system would be an extreme inconvenience to all Independent Reserve users. That's why they use two Tier-3 data centers, enabling two constantly updated data sources. That way, even if one data center would have a problem, the other would be there as a back up to prevent data loss.
Keeping the private key to your digital assets secure is quite possibly the most important factor of trading cryptocurrencies. That's why Independent Reserve uses cold storage to physically and digitally protect the hardware devices which store your digital key. The vaults where the keys are stored have biometric authentication, multi-layer encryption, and are placed in various locations so as not to store them all together in the same place.
As far as keeping your account secure, there are a few essential layers of security that Independent Reserve uses so that you can have peace of mind while exchanging. The very first layer of security to your account is your password. If you are worried that anyone may have gained access to your password, they offer a duress password function. This function allows you to lock out your account for 24 hours while you figure things out.
Two-factor authentication is another measure they take to ensure that your assets and data are kept safe. You have to identify yourself in two different ways whenever you make a withdrawal or log in to your account. This is done through a smartphone app called Google Authenticator. The process entails entering the necessary information for the action (i.e., pin number or username/password) as well as having a code sent to a pre-validated device such as your computer or your phone.
Confirming your identity and your right to use your account is also a huge step when it comes to secure exchanging. First off, you'll need to validate an email address, phone number, and secondary phone number to allow for two-factor authentication. Once that's done, you'll be legally required to provide some personal information.
Your information allows Independent Reserve to cross-reference your identity between a few databases, ensuring that you're a sincere, authentic trader who isn't involved in any kind of fraudulent activity.
In short, they're reliable, secure, have responsive support, and are 100% Australian. A great choice when you're looking for a trustworthy crypto exchange!
Disclaimer: Digital currencies and cryptocurrencies are volatile and can involve a lot of risk. Their prices and performance is very unpredictable and past performance is no guarantee of future performance. Consult a financial advisor or obtain your own advice independent of this site before relying and acting on the information provided.