NDAX Review 2022 – Crypto Exchange in Canada
Disclaimer: We may receive a commission for purchases made through the links on our site. However, this does not impact our reviews and comparisons. Learn more about our Affiliate Disclosure.
There isn't much known about NDAX, one of the newest Canadian Cryptocurrency exchanges. What is known, however, is that the exchange has been generating positive buzz since its launch in 2018 by founders Bilal and Hussein Hammoud.
NDAX is headquartered in Calgary, has the backing of a major Canadian bank, and is subject to regulatory oversight. With all of these factors aligned, it seems like they're determined to succeed, and it's worth keeping an eye on this exchange in the coming years.
About NDAX.io
NDAX is short for National Digital Asset Exchange and arrived with some fanfare. The trading platform touted a promise to create a full exchange for trading cryptocurrencies and undoubtedly garnered some media attention. Users report that they like NDAX's security features, its low trading volume, and its accessibility for novice users.
One of the first things a prospective customer will notice if they search for NDAX is that there isn't a lot of tangible information about the exchange. What we do know is that NDAX offers eight cryptocurrency buying options and ten pairs of sharing. It isn't much, but it's a decent start. They do seem interested in bringing more out as time goes on, albeit with a cautious approach.
NDAX offers a full exchange, though a limited one right now. Because it's small, it doesn't have the trading volume of other larger competitors. Plus, it's been designed to be friendly to beginners and intermediate users.
The company is entirely owned and operated by Canadians, and currently only offers service in Canada, where it is associated with a Canadian based bank. Users have access to Interac e-transfer as one of its funding options. They also accept wire transfers, bank drafts, and certified checks.
Keep in mind that NDAX is brand new, but unlike some other new exchanges that appear regularly, it's free of kitschy come-ons or trendy affability. It may be easy for beginners, but that doesn't mean it's not positioning itself to be respected in its field.
Users will feel comfortable with NDAX's professional approach to cryptocurrency exchange but shouldn't feel intimidated. At first glance, it seems like a great place to start in cryptocurrency trading. Time will tell if it has the staying power to grow its market share though.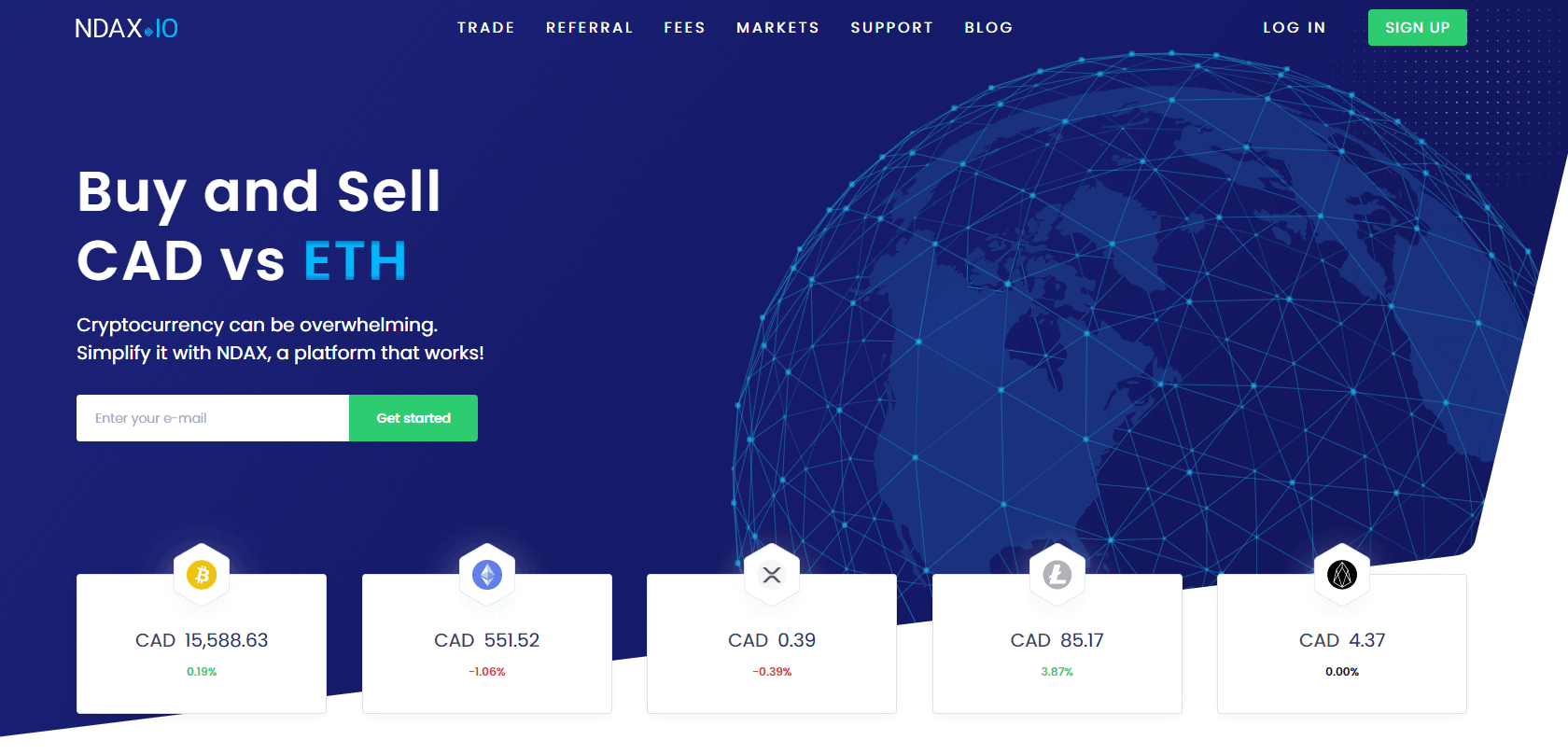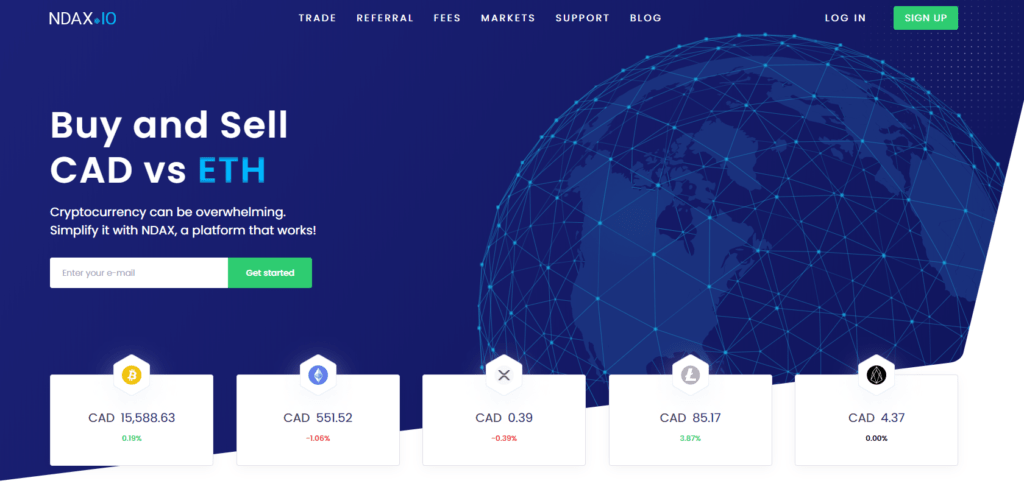 Buy Bitcoin and Other Cryptocurrencies
NDAX operates a full cryptocurrency and Bitcoin exchange that is versatile enough for professionals, but simple enough for beginners. Even though it doesn't have as many pairs as other international exchanges, you can buy and sell cryptocurrency in minutes—and, an extra level of regulatory oversight gives you security in their product.
To get started, you enter and verify your personal information to create an account. It may take a few minutes to get verified, but once finished, you'll be ready to begin trading.
If you are interested in advanced trading options, such as setting limits, you'll need to apply for advanced verification. This process requires extra information and takes longer, often about a day.
After you set up an account, you need to fund it with Fiat Currency. NDAX offers several methods for funding, including electronic fund transfers through Interac. It's a Canadian system that makes quick e-transactions to pay bills or other payments. Funding through direct wire transfer, bank transfer, debit card, or credit card is also available once you link your bank account.
After you fund your account, you're ready to start buying and selling cryptocurrencies, but you might want to customize your desktop first. Changing the style of the pricing display or history is as simple as scrolling through options from a drop-down menu.
Once you've set things according to your preferences, you can select from ten different cryptocurrency pairs to make a trade. Or, you can use stored fiat currency to buy and sell cryptocurrency directly. Users with advanced verification get a few more options such as setting market, limit, and advanced order options. These options are available on NDAX's mobile app as well.
NDAX is a full exchange. It's designed to be user-friendly, but the extra features for professionals could be confusing if you're new to the game. Don't be intimidated, though. You'll find the mechanics of the platform as simple as hitting the 'trade' button or entering a few keystrokes.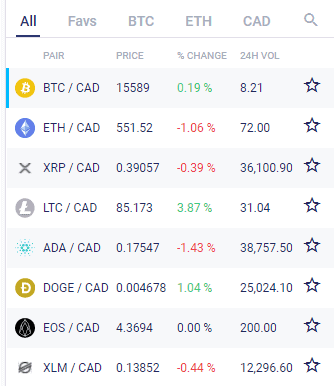 In comparison to larger international exchanges, NDAX doesn't support as many altcoins. However, there's a trade-off: international exchanges often exist without financial regulatory oversight. They tend to rely on tight encryption and opaque security measures to ensure their customer's security.
The advantage of regulatory oversight is that customers know a government body is making sure that their trust is well placed. It slows down the growth of the exchange, but users have one more level of defense between themselves and weak or untested crypto coins.
Currently, NDAX offers only eight cryptocurrencies: TrueUSD, EOD, Stellar, Bitcoin, Litecoin, Ethereum, Bitcoin Cash, Cardano, and Ripple (XRP). They're combined into ten possible trading pairs, which isn't much and doesn't cover all the possibilities—but once FINTRAC looks at and approves more pairs, we're sure they will be available in the future.
Trading Fees and Limits
There aren't any fees to make a deposit, but there are limits. The minimum deposit for an Interac e-transfer is 100 Canadian dollars with a maximum deposit of 3,000 CAD. The minimum deposit for a bank draft or a wire transfer is 3,000 Canadian dollars with no maximum limit.
NDAX doesn't charge its customers any deposit fees, but charges 0.2% for all trades.
Withdrawal fees vary depending upon which cryptocurrency is being withdrawn. You can withdraw between $100 and $100,000 in Canadian Dollars at a flat fee of $25. Or, wire transfers are available between $1000 and $100,000 at a flat fee of $75.
There is no maximum limit to withdraw cryptocurrencies on NDAX, but they each have a flat minimum limit and a flat fee for withdrawals. The minimum amounts are:
Bitcoin – .01
Litecoin – .05
Ripple – 100
Bitcoin Cash – .1
Ethereum – .15
XLM – 200
EOS – 10
Customer Support
Customers want to know that an exchange like NDAX will be available when they need them to be. The platform's operation can be smooth and efficient, but now and then something bad is going to happen.
When a mishap does occur, you need to be able to work with support representatives to resolve the issue. You want prompt, efficient, and effective customer service. There's nothing worse than waiting for hours for a response, only to have to repeat the question because it wasn't understood.
So, where does NDAX's customer service stand? Truth be told, it's hard to tell. We found only one customer review that mentioned NDAX's customer service, but that customer wrote a very positive review. For now, NDAX's unclear reception errs toward the benefit of the doubt. People tend to write reviews more often when they're unpleased with a service, so the lack of negative reviews is a good sign.
NDAX offers a customer service phone line, which is not common among cryptocurrency exchanges. However, further information about the quality of the phone line isn't quite available yet. There's more than just the phone line, though.
They offer several ways to contact them with questions or concerns. Customers can submit a request to them through a link on the webpage, or there is online chat support. That's all standard for most cryptocurrency exchanges. The online support chat pops up quickly when you visit their website. That's a promising sign that they take customer support seriously.
A compelling method of customer support is the Reddit page NDAX set up, which lets users interact and help each other with problems and questions. There isn't much information or conversation on it yet, but it's an impressive idea for customer support.
It's hard to assess NDAX's customer service efforts based on the few scattered reviews available. We're intrigued with their initiative of having a Reddit page, though. It lets customers interact with each other to build a growing question archive, which sounds like a promising collective effort.
Of course, having a telephone number to call is helpful too. We're looking forward to seeing how this platform, and its customer service, fares in the future.
Is NDAX Safe to Use?
As for their security, it seems to be off to a good start. They're associated with a major Canadian bank and have already signed on to regulations, which are strong signs that they prioritize security. NDAX additionally has a robust verification system that keeps customer information secure without compromising on its user-friendliness.
Naturally, whenever a new exchange appears on the market, customers wonder if it is secure enough to compete with older exchanges that have weathered market volatility and internet threats. The market teaches veteran exchanges hard lessons through hacks and angry customers, which provide the affected companies with real-life experience. They respond, adapt, and get stronger by learning and getting better.
Though new to the marketplace, NDAX established effective security measures that ensure that both novice and professional customers feel comfortable entrusting them with their assets. For instance, NDAX holds its customers fiat currency balances in a federally insured Canadian Bank, so they aren't linked to the exchange itself. This method of storage makes them less vulnerable to exterior hacks.
NDAX stores customers' digital assets in cold wallets offline controlled exclusively by the executive team. Daily transactions come from 2% of digital assets held in hot wallets.
Canada's financial intelligence agency, FINTRAC, conducts regulatory oversight of the exchange. This alliance adds to NDAX's security by ensuring that the products they offer are vetted and inspected before they're available to customers. That way, customers can't involve themselves in risky Cryptocoin ventures that jeopardize their financial security.
As a brand-new exchange that's hot off the press, NDAX still has some learning and growing to do. Right now, we can't yet make a full assessment of its security measures. It's created a robust and secure platform with many excellent security features that should provide peace of mind to its customers. But only time and experience will tell how well they fare.
Frequently Asked Questions
Does NDAX have an app?
NDAX offers both an Android and iOS app, meaning that there's no discrimination between iPhone users and Android users. The app can also be used on any tablets that support it. Much like every aspect of NDAX, there isn't much information about either of them because the platform is so new. The iOS app may only be available from a third-party provider as we weren't able to find it on Apple's App Store.
One review for the app on Google gives it 3 stars and mentions the frustration of trying to enter a value into the system even though the price is fluctuating. The system is new. We expect NDAX to work on the issues as time goes on, and customers should keep an eye out for further reviews as they become available.
How is NDAX regulated in Canada?
NDAX operates exclusively in Canada and is regulated by Canadian Financial Authorities. There's no indication that that is going to change at any point in the future. Opening the platform subjects it to regulation from international authorities, which can get complicated, and being a new platform, NDAX is far from ready for a step like that.
Does NDAX provide a cryptocurrency wallet?
As of April 2019, it appears that NDAX offers a cryptocurrency wallet through its account services. NDAX uses Ledger Vault, which is a wallet management service based in France.
Is NDAX the Best Canadian Exchange?
NDAX vs Bitbuy vs Shakepay vs Coinsquare
It's difficult to give a complete review of a cryptocurrency exchange that is in its infancy. However, NDAX looks like a good addition to the cryptocurrency exchange market if you're a resident of Canada. It's built a platform on impressive security and regulatory ideas, and its approach to customer service is unique and interesting.
With attention to both novice and advanced traders, NDAX places itself at the front of Canadian exchanges. It offers a nice spread of matched trading pairs, low fees, and the largest portfolio of regulated cryptocurrencies in Canada, so customers interested in getting involved should keep an eye on this option.
Coinbase and Other Crypto Exchanges
If you're interested in non-Canadian crypto exchanges, we invite you to take a look at our guides on the best exchanges in Australia, the UK, or the US.
Disclaimer: Digital currencies and cryptocurrencies are volatile and can involve a lot of risk. Their prices and performance is very unpredictable and past performance is no guarantee of future performance. Consult a financial advisor or obtain your own advice independent of this site before relying and acting on the information provided.