Self Managed Super Funds Investing In Bitcoin & Other Cryptocurrencies
Last Updated on February 11, 2022
Alright, so you want to invest your superannuation into cryptocurrency, firstly you'll need to set up a Self Managed Super Fund (SMSF).
Cryptocurrencies are bought through crypto exchanges. These are platforms you need to sign up for (like forums/apps or any other website with user accounts). Once you've signed up, you can log in, deposit credits/money (preferably AUD) into your account. And then you can use that money to buy cryptocurrencies on the platform/exchange.
In Australia, we have quite a few options when it comes to cryptocurrency exchanges. Long story short, our favourite platform at the moment is Swyftx, it's easy to sign up, you can use AUD, and they have 70+ coins available for you to purchase (including Bitcoin).
We've laid out the steps on how to invest in cryptocurrency with your SMSF below! And further down we've got a more detailed guide on setting up an account with Swyftx in case you get stuck.
Featured On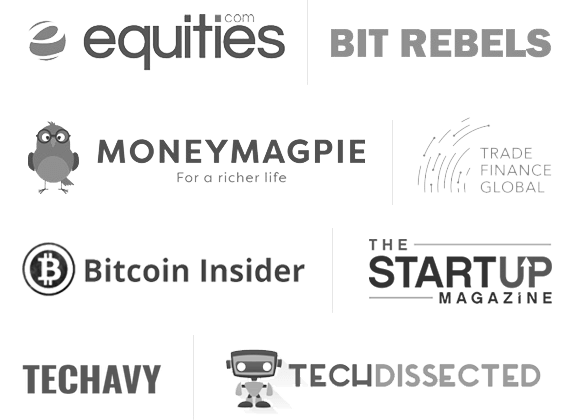 Disclaimer: Digital currencies and cryptocurrencies are volatile and can involve a lot of risk. Their prices and performance is very unpredictable and past performance is no guarantee of future performance. Consult a financial advisor or obtain your own advice independent of this site before relying and acting on the information provided. We highly recommend speaking to your registered tax professional before investing your superannuation and checking out the Australian Tax Office Crypto SMSF information.
How To Invest In Cryptocurrency
With Self Managed Super Funds (SMSF)
Thousands of Aussies are choosing to invest their superannuation in Bitcoin (BTC), Ethereum (ETH), and other cryptocurrencies. Thankfully this is becoming very easy with platforms such as Swyftx offering excellent features and useful information such as EOFY reporting.
Register for an account with Swyftx.
Verify your account.
You'll be assigned an account manager who will help you with any queries.
Choose your portfolio of cryptocurrencies.
Store your chosen cryptocurrencies on a hardware wallet such as the Ledger Nano X.
You'll need to create a Self Managed Super Fund account on Swyftx which will require the following information for your SMSF trust:
Registered Trust Name
Registered Trust Address
Trust ABN
Copy Of The Trust deed
Trust Beneficiary Details
Cryptocurrency and SMSF
Investment Strategy
Since cryptocurrencies are different from regular currencies and SMSF investments, you should prepare your SMSF for this new investment and asset class.
First, you need to make sure both your fund's trust deed and the SMSF investment strategy can be adjusted to accommodate the risks associated with cryptocurrency volatility. Next, your crypto investment should comply with SISA and SISR regulatory requirements.
Avoid Related-Party Transactions
Rule number one in SMSF investing is to avoid intentional transactions from related parties, i.e. members or SMSF trustees with whom you have some close association.
Regular SMSF investing includes some exceptions to this rule such as listed securities and business real property acquired at market value. However, cryptos aren't treated as "listed securities" so these exceptions don't apply to them. Therefore, don't accept contributions from related parties to your SMSF fund.
Pass the Sole-Purpose Test
The second rule of SMSF investing is that it must be created and funded for the sole purpose of retirement benefits. That means that SMSF trustees and members are prohibited from gaining some financial benefit from your SMSF fund (e.g. money from crypto purchase commissions). If that's the case, you'll fail the sole-purpose test.
Separate SMSF Cryptocurrency From
Personal Assets
SMSF holdings are kept separately from your personal assets. For this purpose, you need a separate digital wallet to store your SMSF cryptocurrencies. These wallets don't safeguard the actual coins but a private key, an encrypted wallet address that gives you access to the crypto balance.
Your SMSF fund must provide evidence for the wallet you're using with clear ownership of its private key. This proves the wallet isn't used for any other purposes besides that of retirement savings.
Separating your SMSF cryptos can be done in two ways: you can either let the trustee take custody of your private key vouching they won't disclose it to anyone else or use a third-party platform such a Swyftx that allows Australian customers to create an SMSF account that comes with a crypto wallet.
The advantage of using the Swyftx wallet is that it makes buying, selling, and record-keeping a lot more practical and saves you a lot of time. On the other hand, it means that you should rely on the platform's security measures. Luckily, Swyftx has been praised for its infallible security system.
We recommend you consult with SMSF investors and other experts to get financial advice on whether you're making the right investment decision before you get started.
Why Bitcoin For Self Managed
Super Funds?
Many Australians are choosing to invest a portion of their superannuation in Bitcoin because it has had a good track record so far. People also believe that digital currency is the future so it makes sense to invest in it long term.
Cryptocurrencies are highly speculative but there is no doubt that blockchain is changing the world. However, whether digital currency takes over is definitely another question. Nobody can know for sure what the financial situations will be like twenty or fifty years from now, but people are willing to risk a portion of their savings because they see crypto as the best alternative.
Like any sort of investment, this is high risk and it's recommended to talk to a financial advisor or accountant. Luckily if you do choose to invest a portion of your superannuation through your SMSF into Bitcoin it's very easy in Australia with a number of exchanges that will make it possible.
What About Cryptocurrency
Investment Funds?
Currently, in Australia, there aren't any superannuation funds that support cryptocurrency. This means that your only option is to set up your own Self Managed Super Fund (SMSF) and manage it yourself.
This is often better because it allows you to choose the exact percentage you want to invest in cryptocurrency compared to other options. It is expected that over the next few years there will be options to use investment funds that support cryptocurrency with your saved superannuation.
Frequently Asked Questions
Cryptocurrency is a complex topic and when considering investing your superannuation it's highly recommended to do lots of research. We've included information below with some of the most common questions we get.
Is Bitcoin taxed in Australia?
Bitcoin and cryptocurrency taxation is important when preparing the SMSF annual tax return. In Australia, Bitcoin is taxed and subjected to capital gains tax (CGT). However, the rules are constantly revised which is why we highly recommend looking at the ATO for the most up to date information and speaking to a financial advisor or accountant for the best tax advice. At the moment, tax depends on a number of factors including the frequency of trading which would classify you as an investor or trader each of which changes the way you are taxed for income tax purposes. Getting professional advice is a must!
How do I get Cryptocurrency in Australia?
In Australia, you get cryptocurrency through cryptocurrency exchanges, just like stock exchanges. These platforms allow you to sign up, connect up your bank account, and deposit AUD. From there you can buy/sell/trade any cryptocurrency and you can even transfer it to international exchanges for better fee rates.
What's the best Australian site to buy cryptocurrency?
The best site to buy cryptocurrency is, in our opinion, Swyftx. They have 70+ cryptocurrencies to choose from and the setup is pretty easy. That being said, definitely have a look at our full comparison of the best exchanges in Australia for more information on the options available.
Where should I store my cryptocurrency?
If you are investing your superannuation into cryptocurrency it's most likely that you won't be frequently trading but rather holding your cryptocurrencies for a long period of time. In this case, we would highly recommend using a hardware wallet such as the Ledger Nano X. This portable USB-like is a safer option to keep your crypto than online wallets. You can keep your cryptocurrency on the exchange you bought it from but this isn't recommended because there's a chance that the exchange can go bust and your funds will be lost. This has happened in the past to quite a few exchanges so it's smart to play it safe and store it on a hardware wallet.
What is a crypto wallet?
A cryptocurrency wallet is essentially somewhere you can store your various coins in a safe digital environment. From your wallet, you have the ability to send and receive various cryptocurrencies. Currently, exchanges have these wallets integrated into their system but it's not recommended to keep your funds on an exchange long term as it could potentially have issues and shut down. It's much safer to store your funds in a hardware wallet, there are plenty of options with this which you can read more about here.