Swyftx Referral Code 2022
Swyftx Referral Code: $20 of free BTC
Swyftx is not only one of the best Australian crypto exchanges, they also offer $20 worth of Bitcoin just for signing up.
If you're just here for the referral code -> Here you go.

How to use your Swyftx referral code
Once you've hit the referral link, you'll be greeted with the following form.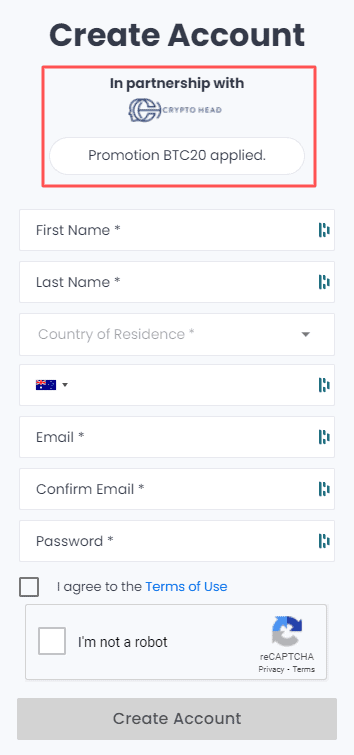 Double-check that you can see that the free $20 BTC has been applied.
Next, just use the form to sign up and go through the required verification process (KYC process).
Finally, make your first deposit, and the $20 will be credited to your account.
Swyftx Review
Swyftx was founded in 2019 by Alex Harper and Angus Goldman, blockchain experts. The Australian trading platform quickly became one of the most popular and well-known on the crypto market.
The trading platform offers a simple, intuitive interface and supports more than 300 cryptocurrencies. Some of the factors that make Swyftx so popular are its fantastic mobile app, responsive support staff, and very tight spreads.
We also really like the fee structure, with no fees on deposits and withdrawals. The onboarding process was simplified to make selling and buying cryptocurrency as simple as possible.
Check our Swyftx review for more information.
Frequently Asked Questions
Is the referral code applicable to existing users?
This referral code is only applicable to new users, not existing traders.
How does Swyftx stack up against Coinspot?
Swyftx has a better trading platform and a better fee structure. Check out our complete Swyftx and Coinspot comparison.
What is the Swyftx referral Code?
Get $20 in Bitcoin using the referral code when you sign up for Swyftx and make your first Swyftx deposit.
What if I didn't get the $20?
You can simply hit up support in the bottom right on desktop, or in the app, and they will happily help you out.